Cambodia welcomes 100 cruise passengers after two weeks at sea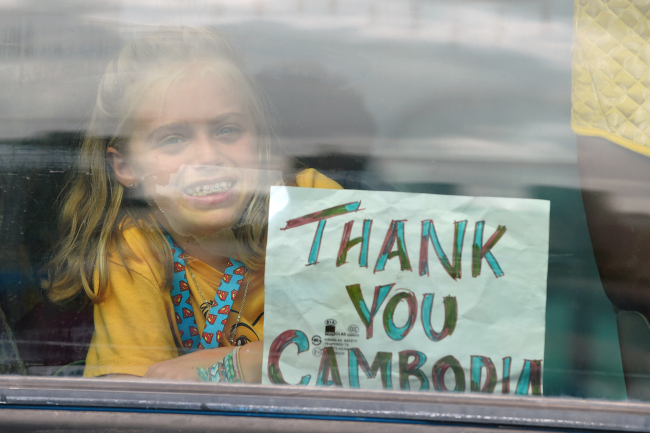 A young passenger Westerdam cruise ship holds up a sign on a bus after disembarking in Sihanoukville on February 14, 2020. (Photo: AFP)
Cambodian prime minister Hun Sen has welcomed around 100 tourists who were handed flowers as they came ashore after two uncertain weeks at sea.
Earlier, the vessel had been barred by Japan, Guam, the Philippines and Thailand over fears it was carrying someone with the new coronavirus.
After no cases of coronavirus were found aboard, Hun Sen said all will be allowed to disembark.
"Cambodia pays more attention to human rights... we respect the rights of the more than 2,000 people on the boat," Hun Sen said on Friday as he welcomed the tourists, AFP reported.
"We don't have wealth like a rich country, but we have sympathy for the passengers stranded on the ship," added the Cambodian prime minister.
"We're very happy to go home, we're so happy that Cambodia has made this possible," a Danish passenger who gave her name only as Lina told AFP.
From the deck of the Westerdam, the remaining cruise-goers were found waving and cheering.
Passenger Christina Kerby, who has been posting light-hearted updates from the ship since the ordeal started, said she was "in tears" over the warm reception.
"The show of support is overwhelming," she tweeted.
Last week, Hun Sen travelled to China in a show of solidarity with the country.