New information emerges: Trump asked about Ukraine investigation
People's Daily app
1573689181000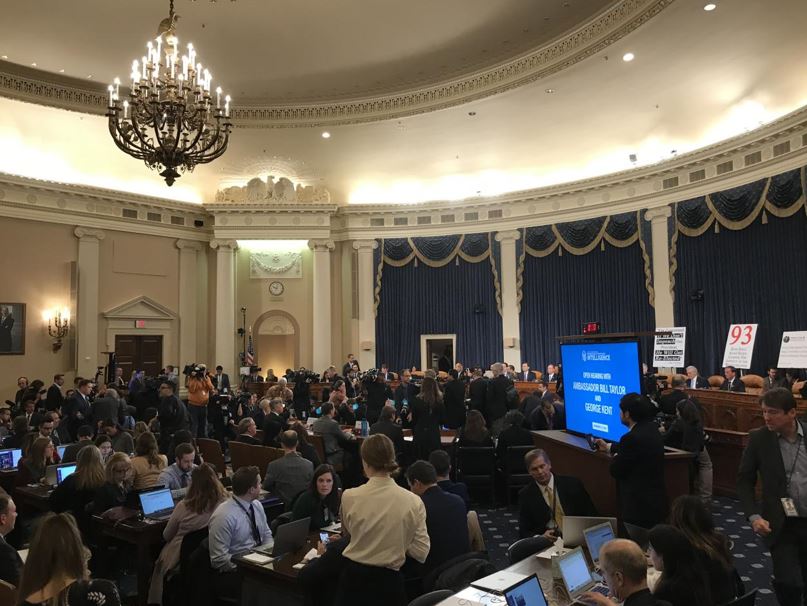 The Democrat-led impeachment inquiry into US President Donald Trump held its first public hearing on November 13, 2019. (Photo: People's Daily)
Washington (People's Daily) - The Democrat-led impeachment inquiry into US President Donald Trump held its first public hearing on Wednesday. Among heated exchanges from both parties, a senior diplomat revealed previously unreported information that Trump was overheard during a phone conversation asking about the "investigation" he had urged the Ukrainian government to conduct on his political rivals.
US Ambassador William B. Taylor, the highest-ranking US official in Ukraine, said during a House Intelligence Committee hearing that last Friday, a member of his staff told him of events that occurred on July 26.
The staff member accompanied Ambassador Sondland, Trump's ambassador pick for the European Union, in his meeting with a top adviser to the Ukrainian President.
After the meeting, the staff member, according to Taylor, overheard a phone conversation between Sondland and Trump in which the US President asked about "the investigations," and where Sondland told Trump the Ukrainians were ready to move forward.
According to Taylor, after the call finished, his staff member asked Sondland what Trump thought about Ukraine. Sondland told him that Trump cared more about the investigations into Biden.
Taylor said he had only recently heard the information, so he had not mentioned it in his previous closed-door disposition with the House Committee. Democrats quickly seized on this information to try to prove that Trump had been directly involved in pressuring a foreign government to investigate his own political opponent.
In addition, Taylor and the other witness, George P. Kent, Deputy Assistant Secretary in charge of European and Eurasian Affairs at Department of State, both testified that the Trump Administration's earlier suspension of US military aid to Ukraine was detrimental to national strategic interests.
Taylor also went over in detail how he gradually came to realize the Trump administration had made a public promise of the Ukrainian government to investigate former US Vice President Joe Biden and his son as a condition for the flow of US military aid to Ukraine and a possible White House visit for the newly elected Ukrainian president.
Speaking of the back channel led Trump's personal attorney Rudy Giuliani to shape US-Ukraine relations around the investigation, Taylor said, "I found a confusing and unusual arrangement for making US policy toward Ukraine. There appeared to be two channels of US policymaking and implementation, one regular and one highly irregular."
At the heart of the current impeachment inquiry against Trump was a phone call between him and the newly elected President of Ukraine Volodymyr Zelensky in July.
An anonymous whistle-blower from the US intelligence community said Trump pressured Zelensky to investigate Biden and his son ,Hunter Biden. Democrats hold the charges from the whistle-blower involve abuse of presidential power and therefore should trigger the impeachment process.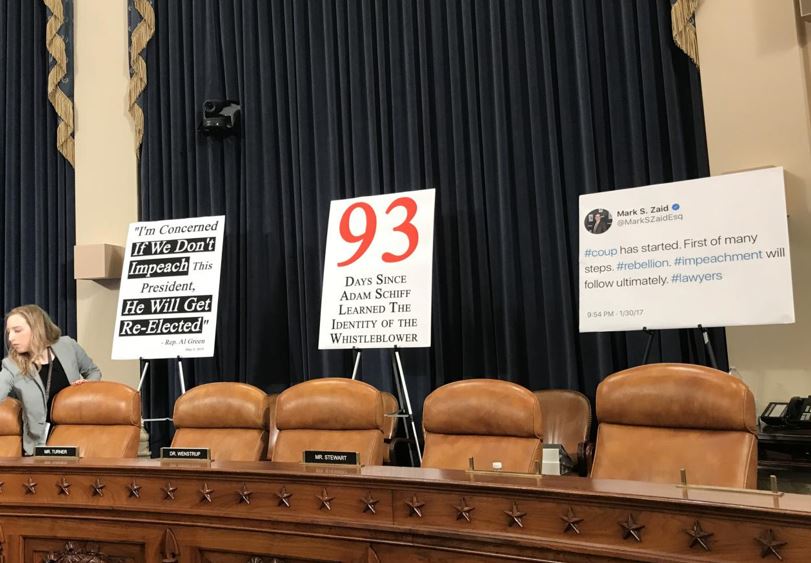 US Democrats held their first impeachment hearing on US President Donald Trump on November 13, 2019. (Photo: People's Daily)
In a statement to the House Committee, Kent said, "as a general principle, I do not believe the United States should ask other countries to engage in selective, politically associated investigations or prosecutions against opponents of those in power, because such selective actions undermine the rule of law regardless of the country."

Republican Committee members offered a spirited defense of Trump, and have repeatedly argued the witnesses the Democrats have relied on do not have first-hand information.
House Representative Jim Jordan of Ohio, a strong Trump ally, told Taylor, "What you heard did not happen. It's not just 'could it have been wrong,' the fact is, it was wrong, because it did not happen."
Meanwhile, Republicans have highlighted Ukraine's alleged interference in the 2016 US election to undermine US President Donald Trump as a candidate. By stressing so-called Ukrainian interference in the election, Republicans sought to justify Trump's request that his personal lawyer seek an investigation in Ukraine.
Top Republican Committee member Devin Nunes said, "but anyone familiar with the Democrats' scorched-earth war against President Trump would not be surprised to see all the typical signs that this is just a carefully orchestrated media smear campaign."
Although the hearing sparked fierce rhetoric from both sides, analysts said details had not emerged that would change the prospects for the impeachment process.
The Associated Press wrote, "Unlike the Watergate hearings and Richard Nixon, there is not yet a 'cancer-on-the-presidency' moment galvanizing public opinion. Nor is there the national shrug, as happened when Bill Clinton's impeachment ultimately didn't result in his removal from office. It's perhaps most like the partisanship-infused impeachment of Andrew Johnson after the Civil War."