Erdogan dismisses accusation, says it's not 'intending to invade Syria'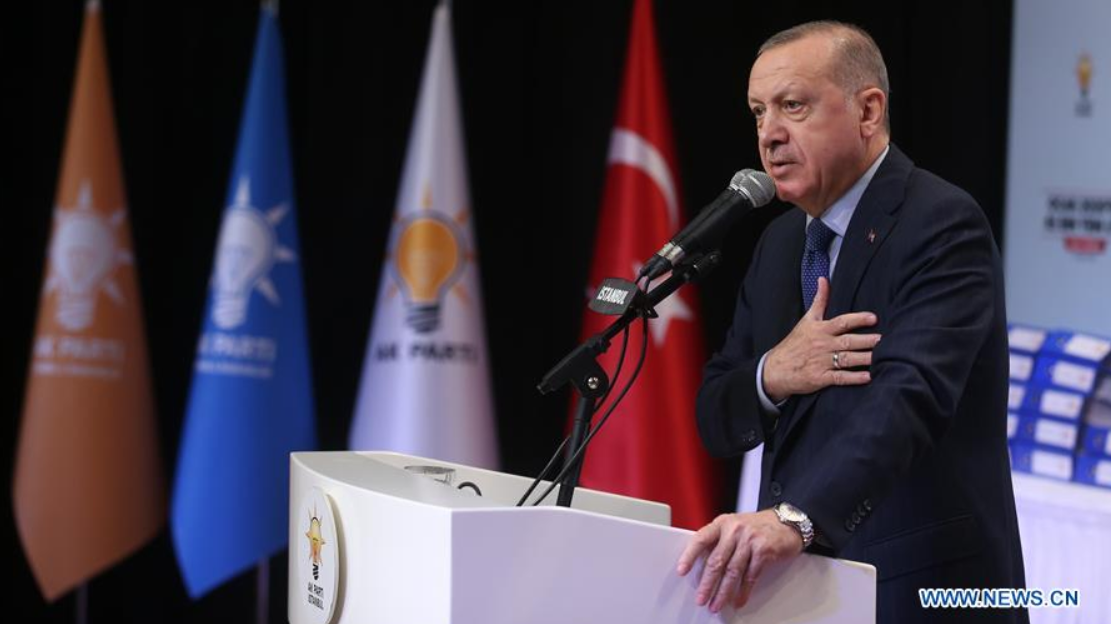 Turkish President Recep Tayyip Erdogan speaks at an event in Istanbul, Turkey, February 15, 2020. (Photo: Xinhua)
Turkey will not remain silent while Syrian government forces surround Turkish military posts in Syria's Idlib region, President Tayyip Erdogan said in comments reported by NTV, as Ankara and Moscow trade barbs over the escalating conflict.
Turkey has dismissed Russian accusations that its actions in Idlib have flouted de-escalation agreements with Russia and Iran, and said it would take military action if diplomatic efforts with Moscow fail.
Erdogan told reporters on a flight from Pakistan that his talks with Russian President Vladimir Putin on the issue had been positive, NTV reported. He also said U.S. statements of support for Turkey on Idlib "did not instill trust."
In a separate event in Istanbul, Erdogan also stressed that Turkey has "no intention to invade or annex the Syrian territory."
He said that the issues in Idlib would not be resolved until government forces are drawn to the limits set by the Sochi deal.
Earlier in the day, Erdogan and U.S. President Donald Trump exchanged views by phone on ending the crisis in Idlib as soon as possible, Turkey's Directorate of Communications announced on Twitter.
The two leaders agreed that attacks by Syrian government forces in the northwestern province, which killed 13 Turkish troops, were unacceptable, the directorate added in a separate tweet.
Escalating tensions, Syrian advances updates
Erdogan's remarks came as tensions between Turkey and Syria have been rapidly escalating, with a series of tortuous hostilities between the two state armies culminating in direct mutual engagement on February 3.
Turkey's military has reportedly sent additional arms and troops to Idlib on its southern border to confront a push by Russia-backed Syrian government forces to retake the country's last major rebel stronghold after nearly nine years of war.
The Syrian Observatory war monitor said on Friday that Turkey had deployed around 6,500 soldiers to reinforce existing units in northwest Syria, as well as some 1,900 military vehicles since early February.
Syrian government forces, in the meantime, have recently made two significant territorial gains, capturing the key strategic towns of Maaret al-Numan on January 29 and Saraqeb on February 8.
Maaret al-Numan lies on the key M5 highway connecting the capital Damascus to Aleppo.
Saraqeb sits at the crossroads with the M4, the main east-west highway in Idlib, which links Aleppo with the Mediterranean port city of Latakia, a government bastion.
While Ikhbariya said the M5 was now fully under the control of Syria's army, the M4 is still largely controlled by jihadists and Turkey-backed rebel forces.
(With input from agencies)