Aussie state scrambling for solution as backlog of waste piles up
SYDNEY, July 26 (Xinhua) -- Councils in the Australian state of Victoria are scrambling to cope with a surplus of waste on Friday, after a major recycling firm said it could not take any more rubbish.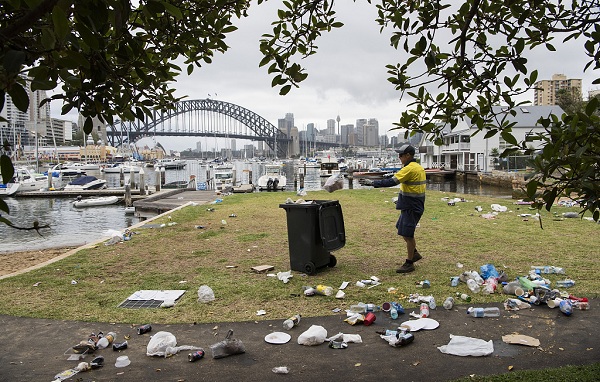 A council worker picks up piles of rubbish in North Sydney on January 1, 2017 in Sydney, Australia. (File Photo: VCG)
SKM Recycling, which processes waste for 33 local councils, revealed their decision on Thursday night meaning that much of the waste in backlog could now be headed for landfill.
Representative for SKM, Rob Spence told ABC radio that the reason for the current build up is a six-week halt on processing imposed by the Environment Protection Authority in May of this year.
"There's no capacity to take this stuff into SKM because it is fully loaded as a result of the six week stop," Spence said.
The surplus of recyclable materials piling up in Australia follows a decision by China to reduce its intake of recycling which is contaminated beyond a certain threshold.
A report released in June of this year found that Victoria's waste management bodies were underprepared for the development which led to "significant" amounts of recyclable materials ending up in landfill.
"Without a statewide waste policy, responsible agencies are operating in an uncertain environment and cannot effectively prioritise their limited time and resources," the report said.