The latest: COVID-19 outbreak worldwide (Updated April 10)
People's Daily app
1586519186000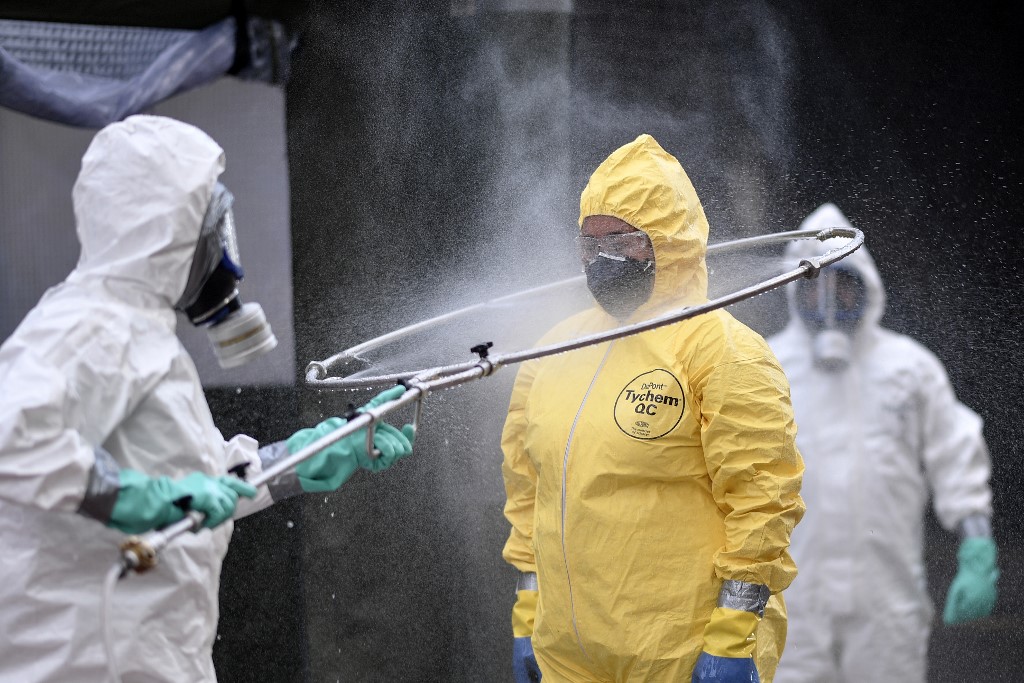 Brazil's military, firefighters and Civil Defense members disinfect each other after cleaning a bus station in Belo Horizonte, Brazil, on April 9, 2020. (Photo: AFP)
According to the data from Johns Hopkins University, the number of COVID-19 infections around the world has reached 1,611,981 as of 7pm BJT on Friday.
The number of fatalities has reached 96,783. So far, 361,235 people have fully recovered from the virus.
Current status (data as of 7 pm BJT, April 10):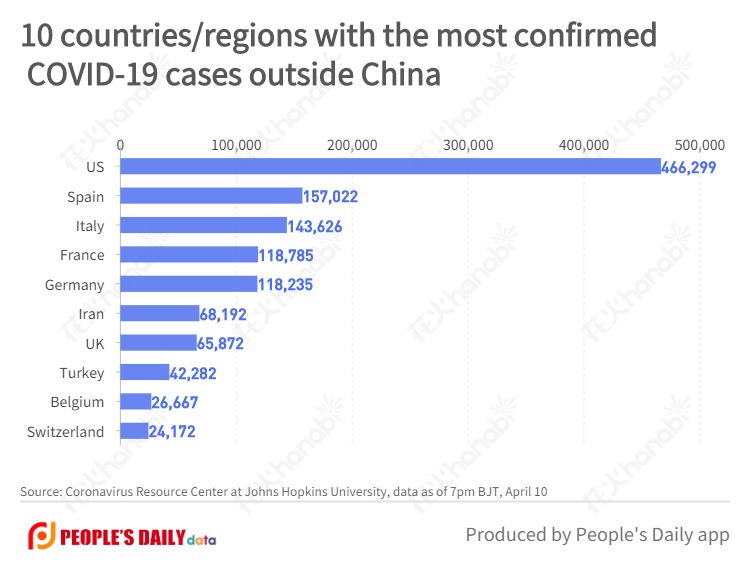 No new confirmed cases of the novel coronavirus disease (COVID-19) were reported Thursday in central China's Hubei Province, the provincial health commission said Friday.
The COVID-19 pandemic has claimed 18,279 lives in locked-down Italy, bringing the total number of infections, fatalities and recoveries to 143,626 by Thursday, according to the latest data released by the country's Civil Protection Department.

Iran had 1,972 new infections of COVID-19 and 122 new deaths during the past 24 hours, Iran's health ministry spokesman said on Friday. The number of confirmed cases has risen to 68,192, with the number of deaths at 4,232.
Spain recorded its lowest daily death toll from coronavirus in 17 days, with 605 people dying, the government said on Friday. The update raised the overall number of fatalities to 15,843 in Spain and the total number of cases now stands at 157,022.
UK Prime Minister Boris Johnson was recovering in a hospital ward Friday after ending three days in intensive care for COVID-19, as his government urged Britons to stay at home over Easter.
Since the start of the coronavirus epidemic, Belgium has recorded 3,019 deaths as of Friday, according to Belgian health authorities.
The French aircraft carrier Charles de Gaulle has registered 50 cases of novel coronavirus on board, the armed forces ministry said Friday.
Russia has tallied a total of 11,917 cases of COVID-19 in 82 out of 85 regions of the country as of Friday, with the number of infections rising by a new daily record of 1,786, latest official data showed.