Djokovic extends dominance in world rankings after thrilling 999th career win
Novak Djokovic just had no intention of loosening his grip on the world number one ranking.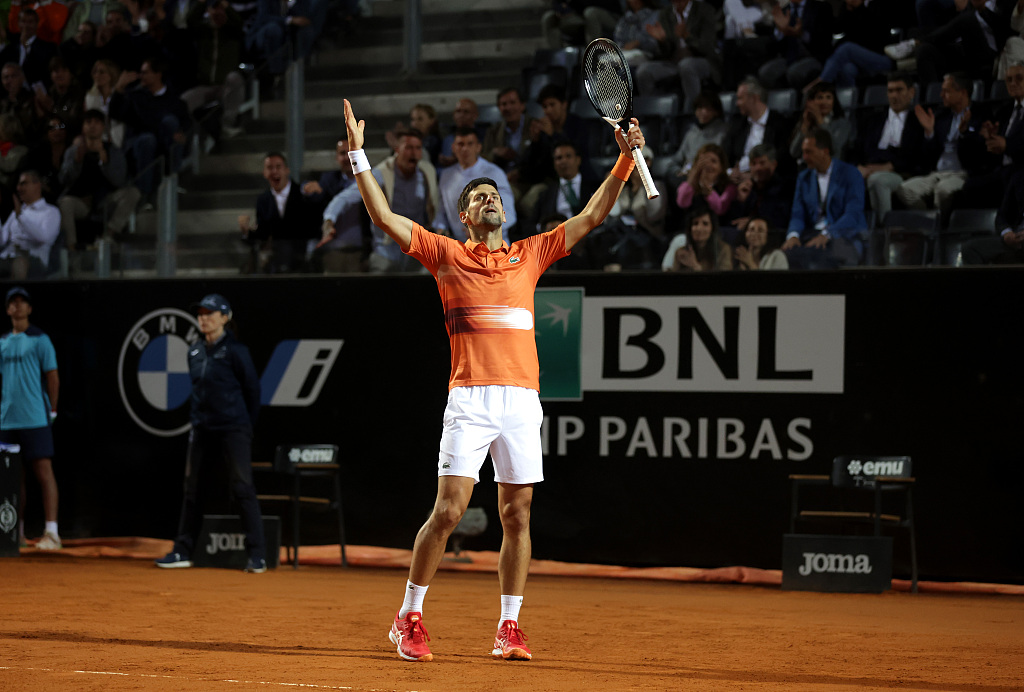 Despite an admirable attempt to stage an upset by Felix Auger-Aliassime, top seed Djokovic stood up to the challenge and delivered arguably one of his best performances on clay this year with a 7-5, 7-6 (7/1) win and earned a spot in the Italian Open semifinals on Friday night.
Djokovic, who knew he would lose his world number one ranking to Daniil Medvedev if he didn't reach the last four, spent the entire clash showcasing his unparalleled combination of technics, pace and composure, pinning ninth-ranked Auger-Aliassime in his backhand corner.
The Canadian youngster, who won the Rotterdam Open in February, however, was not easily flustered and forced his Serbian rival to engage in an intense baseline battle.
Although Auger-Aliassime fought until the end, Djokovic maintained his fine form and momentum, sealing the victory with a brilliant winner that drew thunderous applause from the boisterous Foro Italico crowd.
"It was high-level tennis. He did ask me to raise the level and I had to play consistently well," beamed Djokovic, who will stay as world number one for a record-extending 370th week. "I thought I could have finished the job earlier... I had never faced him before. I knew Felix well."
"He's been around the top of the men's game for quite a few years, but we had never gotten a chance to face each other," he added. "He's got a lethal serve. He's also returning well, he's moving well. He's a very complete player."
Djokovic's victory over Auger-Aliassime was his 999th career win and he is now tantalizingly close to a milestone only four male players have ever achieved in the entire Open Era.
Jimmy Connors (1,274), Roger Federer (1,251), Ivan Lendl (1,068) and Rafael Nadal (1,051) all managed to claim over 1,000 wins in their splendid careers.
Next up for Djokovic is Norwegian sensation Casper Ruud, who outclassed Denis Shapovalov 7-6 (7), 7-5 earlier in the day.
"Great quality opponent. A clay-court specialist, but he has improved a lot on other surfaces and played in the final at Miami this year," Djokovic said of Ruud. "He is a very hard worker, nice guy. We practice a lot and get on well off the court. Tomorrow on the court we want to win against each other no doubt."
It's worth noting that Djokovic and Rafael Nadal have shared a stunning 17-year record in the Italian Open, with at least one of them reaching the final every year since 2005.
After Nadal's elimination in the third round, it will be up to Djokovic to take over the reins.