BRI and multilateralism featured in Xi's Greece and Brazil trip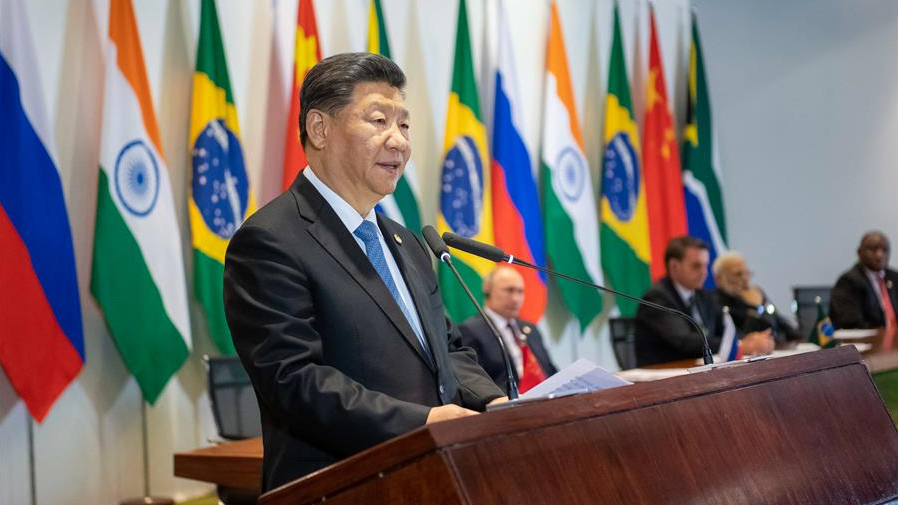 Booming cooperation under the Belt and Road Initiative (BRI) and the highlight of multilateralism featured in the Chinese President Xi Jinping's visits to Greece and Brazil, Chinese State Councilor and Foreign Minister Wang Yi summarized, on Friday, as Xi concluded his tour.
Open up new prospects in jointly building BRI
Piraeus Port in Greece is becoming a key node in the BRI. China's COSCO SHIPPING has been investing huge amounts in the port, creating hundreds of new jobs for local people and contributing to the national economy, Wang introduced.
During his stay in Greece, President Xi visited the Piraeus Port in the company of Greek Prime Minister Kyriakos Mitsotakis.
Piraeus Port in Greece, January 16, 2019. /Xinhua Photo
Representatives of local staff talked with President Xi about their work and life and expressed heartfelt gratitude to COSCO for providing them with job opportunities in the most difficult times during the Greek debt crisis.
Xi said that seeing is believing and that he has seen that the China-proposed BRI is not a slogan or a tale, but a successful practice and brilliant reality.
Deepen BRICS strategic partnership
Noting that the summit was held at a time when crucial developments are taking place in the world's economy and international landscape, Wang said the rising of emerging markets and developing countries like the BRICS pushed the progress of multi-polarization.
However, protectionism and unilateralism are getting worse. President Xi put forward China's proposal, stressing his three-pronged approach in politics, economy, and culture, to enhance BRICS cooperation and point out the direction to usher in the new "golden decade" for BRICS, Wang continued.
Speaking of BRICS Summit Brasilia Declaration, Wang said it embodies China's stance and proposals.
The declaration states the stance of the five countries in safeguarding the basic rules and principles of the UN Charter, upholding multilateralism, solving regional hot button issues, and injecting stability in the uncertain international situation, Wang noted.
Elaboration of multilateralism
In his speech, Xi underscored multilateralism, pointing out that to uphold multilateralism, we should take safeguarding world peace and promoting common development as a goal; take defending justice and pushing forward mutual benefits as a purpose, and safeguarding the core status of the UN in the international system, Wang said.
He continued saying that the core principle of multilateralism is that global affairs should be addressed via a discussion by every country, and cannot be decided by one country or several specific countries.
In 2019, Xi did seven overseas official visits and hosted four international events, which has increased China's influence, Wang summarized.