Kenyan learners brace for national exams amid jitters linked to COVID-19 third wave
NAIROBI, March 22 (Xinhua) -- Linda Kerubo Masika sat inside a National library on the outskirts of the Kenyan capital, Nairobi, with her head burrowed in a book. The 15-year-old was skimming through her notes one last time as she braced for the final examinations that will pave way for her to join junior high school.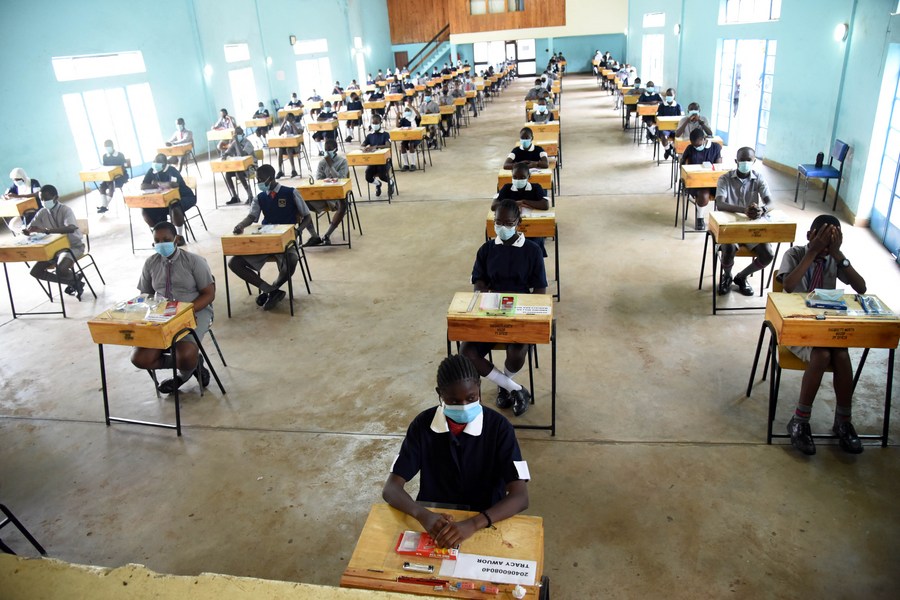 The forthcoming primary and secondary transitional exams that were scheduled for last year but got postponed are set to be exceptional given the unrelenting COVID-19 health crisis in the country.
"There is a looming sense of unpreparedness even though I have covered the expected course work. My friends and I included are afraid that we might be sent home as the exams are in progress due to COVID-19," Masika said during a recent interview.
Her worries provide a glimpse of the state of anxiety among the nearly 2 million learners in the country expected to sit for their final exams starting Monday all through to April for secondary students.
Strict adherence to hygiene and safety protocols is especially vital in recent weeks as the country goes through the third wave of COVID-19 infections.
"The rising cases are an indication that we have lowered our guard, this must not be the case. This is the time to return to the basics, we need to go back to the basic containment measures," said Mercy Mwangangi, chief administrative secretary in the Ministry of Health.
Nevertheless, the government continues to reiterate its commitment to arrest scenarios that might threaten to disrupt the exams, including natural forces such as heavy rains which might hamper transportation of exam papers.
Masika on the other hand now says she has restricted her movement and continues to rely on the comforting words of her parents to allay her fears.
"My parents have been encouraging me frequently and they have even relieved me of some of my house chores so that I can do some last-minute touches," Masika said.
Many kilometers away from Nairobi's skyscrapers, secondary students under Robert Thyaka's stewardship are masked in class revising for their exams.
"Contrary to widespread pedestrian thinking that the hiatus erased our learners' academic content, these learners are knowledgeable and ready to take the tests," said Thyaka, the director of Muisuni Girls Secondary School located in south-eastern Kenyan county of Machakos.
"We continue to adhere to the Ministry of Health guidelines more as right now as the cases of COVID-19 keep soaring," he added.
The school spots different hand washing points, while several posters outside the gate are informing visitors of their prohibited presence inside the school compound.
Additionally, there is an isolation center if a learner displays COVID-19 symptoms.
"Achieving social distance for the examinable class will be less daunting given that we sent home the rest of the classes, consequently freeing shared facilities," Thyaka said.