President Putin holds talks with Middle East leaders on Libya situation
Russian President Vladimir Putin held telephone conversations with the Emir of Qatar Tamim bin Hamad Al Thani and the crown prince of Abu Dhabi Mohammed bin Zayed Al Nahyan, focusing on the Libyan situation, the Kremlin said in statements on Saturday.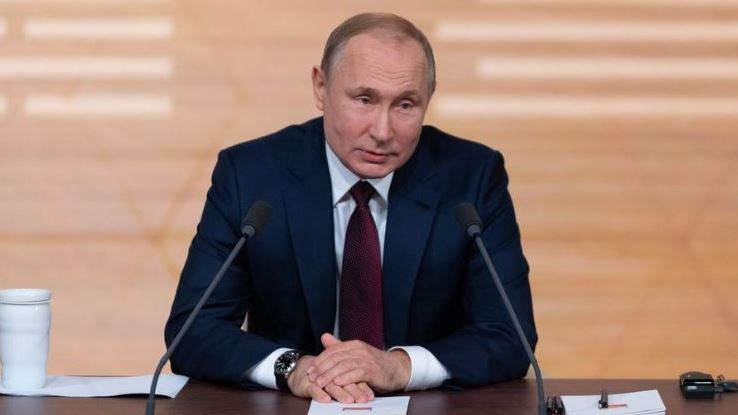 Russian President Vladimir Putin speaks at his annual press conference in Moscow, Russia, Dec. 19, 2019. (File photo: Xinhua)
President Putin briefed the two leaders on his talks with his Turkish counterpart Recep Tayyip Erdogan, which aimed to find a peaceful solution to the Libyan crisis.
"During the telephone conversation, Vladimir Putin and Emir of Qatar Tamim bin Hamad Al Thani had a thorough exchange of opinions on the developments in Libya with due account of the agreements reached in Istanbul on January 8, and spoke in favour of the cessation of hostilities and initiating a peaceful settlement of the conflict," a Kremlin statement said.
"Vladimir Putin updated Mohammed Al Nahyan on the results of the talks with President of Turkey Recep Tayyip Erdogan, which took place in Istanbul on January 8, and spoke in favour of accelerating efforts aimed at securing prompt ceasefire in Libya and facilitating the peace process between the parties to the conflict," another statement said.
Libya has been dogged by war since December 2011, and the situation heightened in early 2019 when Gen. Hafter pledged to take over Tripoli from the GNA.
Since 2011, the Libyan war has killed thousands and displaced millions as militant groups and human trafficking cells sought to impose their command in various regions across the country.
Earlier this month, France and Egypt called for the "greatest restraint" by Libyan and international authorities to avoid an escalation of the conflict that has rocked the country for months.
Foreign ministers from the U.K., France, Germany and Italy have also warned "external actors" to stay out of the Libyan conflict, urging the warring factions to "return to negotiations."
Actors hope the warring factions can engage in dialogue to end the crisis.