NYPD defends its law enforcement authority
People's Daily app
1565997961000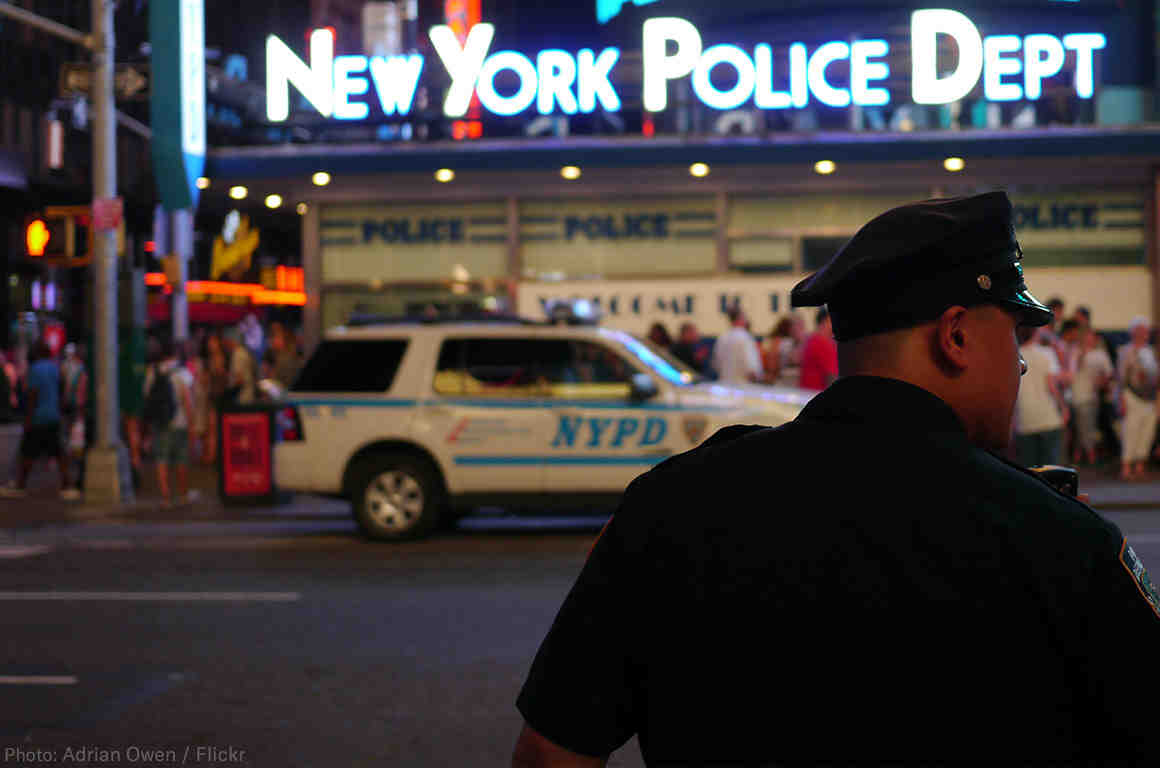 (File photo: agencies)
New York (People's Daily) -- A number of recent incidents in New York have tested the NYPD's readiness to maintain its law enforcement authority. The latest was a demonstration last weekend during which a group of protesters blocked a busy highway to voice their objection to the Trump Administration's immigration policies.
Before that, there were several water attacks on police in different districts of New York, triggering heated public debate about the authority of law enforcement.
Last Saturday, when the protesters held hands on the West Side Highway in Manhattan to advocate for the abolition of ICE, NYPD moved swiftly making nearly 100 arrests. 23-year NYPD veteran, Dr Alfred Titus Jr, told People's Daily he believed the police made the right decision to arrest the protesters.
The law enforcement expert stressed that, "In the case of this protest, the protesters were blocking traffic on the West Side Highway, which is a violation. The protesters were warned by police but refused to move onto the sidewalk. At that point, lawful arrests were made for disorderly conduct and obstructing traffic.
"The First Amendment protects free speech, free assembly, and the right to petition the government for a redress of grievances. However, these protections exist when the speech is not a detriment to public safety, is peaceful, and the assembly does not block or otherwise effect the free-flow of pedestrian or vehicular traffic on public roadways or walkways," Dr Titus added.
Each US state has its own laws governing demonstrations and protests, but there are some basic common principles. For example, if large crowds plan to march on major public roads, they need to apply for permits in advance. Massive protests also should not harm public safety, cannot resist law enforcement actions and endangering the safety of law enforcement personnel will never be accepted. If protesters challenge these principles, the police usually will have no hesitation in taking countermeasures. That was evident in the clearing up of the Occupy Wall Street movement in New York and the handling of the riots in Ferguson, Missouri.
In recent years, nearly 20 states, including Georgia, North Dakota, South Dakota and Wisconsin, have been working to tighten regulations on protests, as reported by Governing, an American media focusing on governmental issues.
Michigan University sociologist Michael Heaney told Governing, "We're seeing not just protests again but protests in places where there haven't been protests for a long time. These new laws are an effort by law enforcement and the legal system to grapple with things that they're not accustomed to."
Before the protest arrests made national headlines, a series of water attacks on police officers happened in New York that sparked heated public debate. NYPD leadership has given a tough response to the incidents, stressing that this is a clear attack on law enforcement authority.
"Use your discretion — make arrests when necessary — and know that you have our support and full confidence," NYPD Chief of Department Terence Monahan tweeted to express support for his officers.
So far, a number of suspects have been charged with various violations. New York local media, citing a police memo, reported that "Police officers are not expected to tolerate conduct that may cause risk of injury to themselves or the public, interferes with performance of their duties, or tampers with or damages their uniform, equipment or other department property."
The water attack cases ignited heated discussion on US social media.
"He needs to be arrested for assaulting an officer! What are we waiting for?" a Twitter user named Mila Frosty replied to a Wall Street Journal's report of the incidents. "Show some respect, some class, some honor. People in the United States should know that if it wasn't for men and women in blue it would have been mayhem," another Twitter user tweeted.
In some of the water attacks, the police officers who were attacked did not react immediately, prompting criticism by law enforcement experts.
Dr Titus summed it up this way, "Officers second-guessing their instincts and training to address issues because of external influences, puts their lives in danger. Many dangerous incidents require split-second decision making, and when that split-second includes unnecessary doubts and thoughts of repercussions, lives on all sides are at stake."
Talking from his own experience, Dr Titus said that every officer needs to be mindful of the level of disrespect they tolerate from the public. "Allowing disrespect to go unaddressed and unchecked can lead to emboldened future behavior. This disrespectful behavior can then be bestowed upon the next officer who interacts with the individual, creating a difficult situation for that officer from the outset," he added.