At least 6 dead after explosion following shootout in western Mexico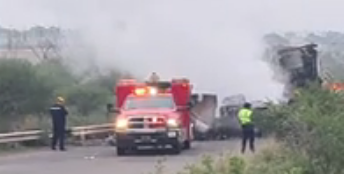 Photo: Twitter

MEXICO CITY, Oct. 9 (Xinhua) -- At least six people died and two were injured on Friday after an explosion and a resulting fire occurred at a farm following a shootout in the municipality of Tonala in Jalisco, Mexico, the local prosecutor's office reported.
Authorities believe the incident may have been caused by "land trafficking" of a piece of property belonging to a local ejido, or communal agricultural land, Jalisco Attorney General Gerardo Octavio Solis said at a press conference.
According to Solis, investigation has indicated that the aggressors fired numerous shots at the farm, with some of the shots hitting gas cylinders, which exploded and caused the fire.
At the property, authorities found an assault rifle and a large amount of cash, the prosecutor added.
"This area has traditionally had land conflicts and, based on the preliminary information available, the cash, the weapons, and the events themselves were probably related to land trafficking issues," said Solis.
Jalisco ranks fifth in the country in the number of homicides, with more than 1,700 deaths registered in the first eight months of the year, according to the National Public Security System.