The latest: COVID-19 outbreak worldwide (Updated June 8)
People's Daily app
1591614334000
Globally, as of 6:30 pm BJT on Monday, there have been 6,881,352 confirmed cases of COVID-19, including 399,895 deaths, reported the WHO.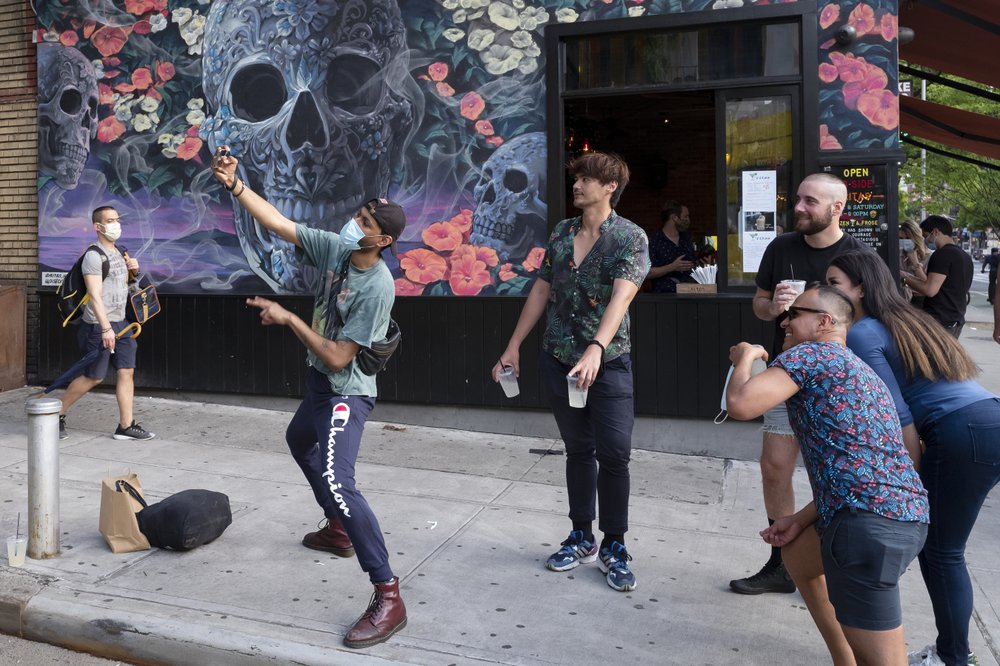 A man takes photos with friends outside a bar in the Hell's Kitchen neighborhood of New York, Friday, May 29, 2020, during the coronavirus pandemic. People are beginning to gather in small groups as the city begins to reopen. (Photo: AP)
Current status (data as of 6:30 pm BJT, June 8):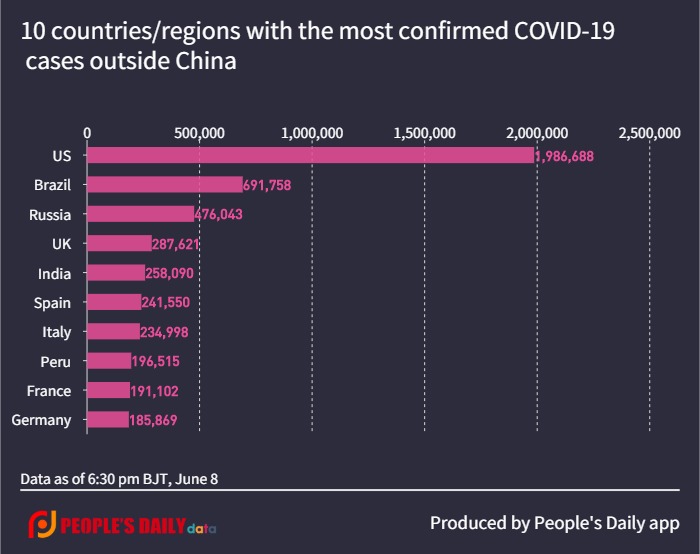 Sources: Xinhua, Johns Hopkins University, national public health agencies.
The outbreak has now claimed 112,241 lives in the United States, the most of any country, with a total of 1,986,688 infections, according to a tally by the 1Point3Acres virus tracker as of 6:30 pm BJT on Monday.
Confirmed cases of COVID-19 in Brazil have increased to 691,758 with 36,455 deaths, Johns Hopkins reported.
Russia has confirmed 476,043 cases of COVID-19, with the number of deaths at 5,963.
The UK's confirmed cases have increased to 287,621, with the number of deaths at 40,625, according to the JHU virus tracker.
India has confirmed a total of 258,090 COVID-19 cases, raising the number of deaths to 7,207.
Spain has recorded 241,550 confirmed cases and 27,136 deaths.
The coronavirus pandemic has claimed 33,899 lives in Italy, bringing the total number of infections to 234,998.
Peru has reported 196,515 COVID-19 cases and 5,465 deaths from the virus so far.
A total of 191,102 people in France have tested positive for COVID-19, with the death toll at 29,158.
It is followed by Germany with 8,689 deaths from 185,869 infections.