The latest: COVID-19 outbreak worldwide (Updated October 29)
People's Daily app
1603968466000
Globally, as of 6:30 pm BJT on Thursday, there have been 44,002,003 confirmed cases of coronavirus, including 1,167,988 deaths, reported the World Health Organization.
Current status (data as of 6:30 pm BJT, October 29):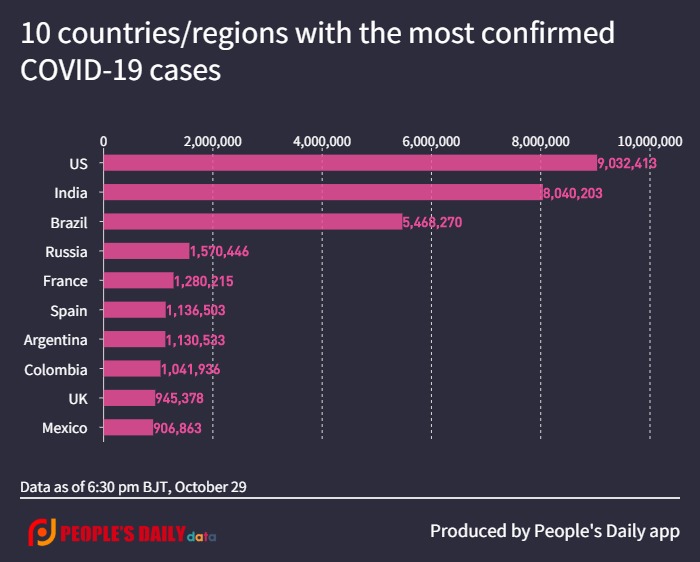 The outbreak has now claimed 232,144 lives in the US, the most of any country, with a total of 9,032,413 infections, according to a tally by Johns Hopkins University as of 6:30 pm BJT on Thursday.
India has confirmed a total of 8,040,203 COVID-19 cases, raising the number of deaths to 120,527.
Confirmed cases of COVID-19 in Brazil have increased to 5,468,270 with 158,456 deaths, Johns Hopkins reported.
Russia has confirmed 1,570,446 cases of COVID-19, with the number of deaths at 27,111.
France has recorded 1,280,215 confirmed cases and 35,823 deaths.
The coronavirus pandemic has claimed 35,466 lives in Spain, bringing the total number of infections to 1,136,503.
A total of 1,130,533 people in Argentina have tested positive for COVID-19, with the death toll at 30,071.
Colombia's confirmed cases have increased to 1,041,936, with the number of deaths at 30,753, according to the JHU virus tracker.
It is followed by the UK with 45,765 deaths from 945,378 infections.
Mexico has reported 906,863 COVID-19 cases and 90,309 deaths from the virus so far.