The latest: COVID-19 outbreak worldwide (Updated May 18)
People's Daily app
1589797300000
Globally, as of 6:42pm CEST on Sunday, there have been 4,534,731 confirmed cases of COVID-19, including 307,537 deaths, reported to WHO.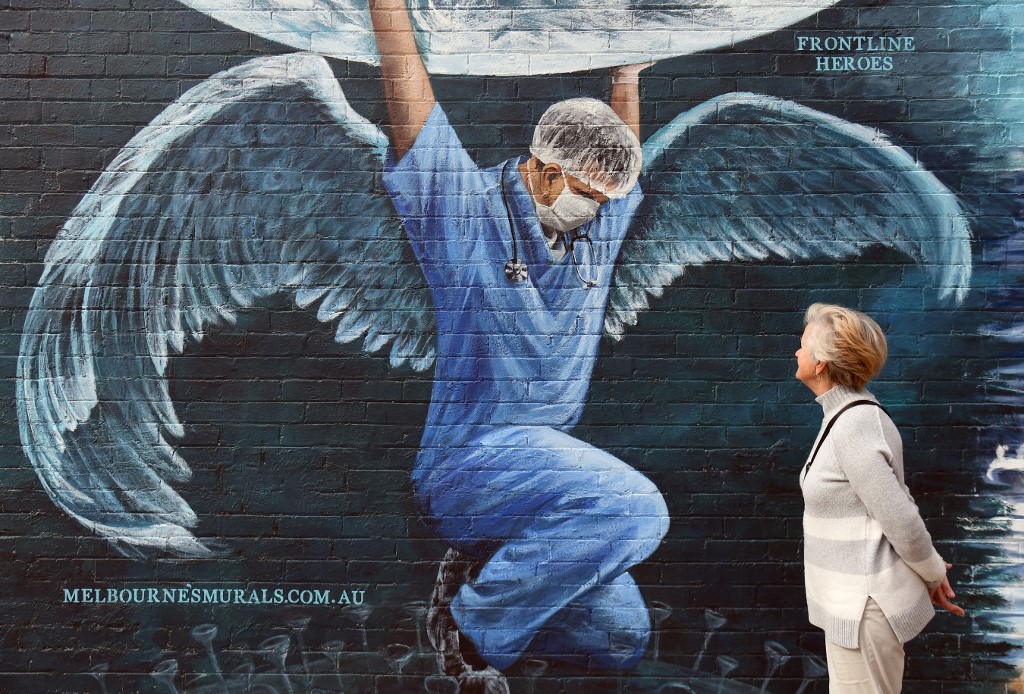 A woman looks at a mural of a health worker with wings holding a globe on International Nurses Day in Melbourne on May 12, 2020. (Photo: AFP)
Current status (data as of 5 pm BJT, May 18):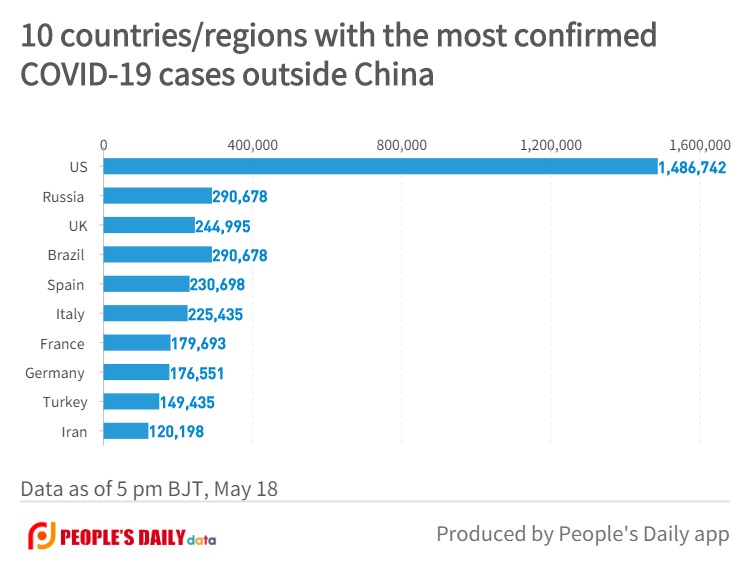 Sources: Xinhua, Johns Hopkins University, national public health agencies.
The outbreak has now claimed the lives of at least 89,564 people in the US, the most of any country. The US also leads the world in the number of confirmed infections with 1,486,742, according to a tally by Johns Hopkins University as of 3:32 pm BJT on Monday.

Russia has confirmed a total number of infections to 290,678. The death toll grew to 2,722.
Another 170 COVID-19 patients have died in the UK as of Saturday afternoon, bringing the total coronavirus-related death toll in the country to 34,636, Secretary of State for Business, Energy and Industrial Strategy Alok Sharma said Sunday. 244,995 people have tested positive for the virus in the country, according to the Johns Hopkins University.
It is followed by Brazil with 290,678 infections and 16,122 deaths, Spain with 230,698 infections and 27,563 deaths, Italy with 225,435 cases and 31,908 deaths, France with 179,693 cases and 28,111 fatalities and Germany with 176,551 infections and 7,975 deaths.
Turkey on Sunday confirmed 1,368 new COVID-19 cases and 44 more deaths in the past 24 hours, according to Turkish Health Minister Fahrettin Koca. The total number of confirmed COVID-19 cases in Turkey rose to 149,435, while the death toll surged to 4,140, Koca tweeted.
Iran on Sunday registered 1,806 new COVID-19 infections, bringing the total number of cases in the country to 120,198 since the outbreak in late February. Meanwhile, 51 new fatalities were reported over the past 24 hours, taking the death toll to 6,988, said Kianush Jahanpur, head of Public Relations and Information Center of the health ministry.