India COVID-19 death toll rises to 559 as total cases reach 17,656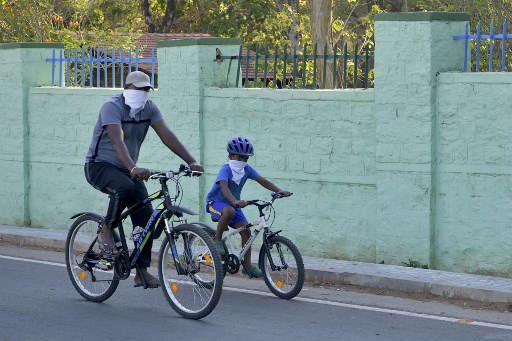 A father and his son wearing facemasks cycle on an empty road during the government-imposed nationwide lockdown as a preventive measure against the COVID-19 coronavirus, in Bangalore on April 20, 2020. (Photo: AFP)
NEW DELHI, April 20 (Xinhua) -- India's federal health ministry Monday evening said 16 new deaths due to COVID-19, besides fresh 391 positive cases were reported since morning across the country, taking the number of deaths to 559 and total cases to 17,656.
"As on 5:00 p.m. (local time), today 559 deaths related to novel coronavirus have been recorded in the country," reads the information released by the ministry.
On Monday morning the number of COVID-19 cases in the country was 17,265 and the death toll was 543.
According to ministry officials, so far 2,842 people have been discharged from hospitals after showing improvement.
Monday marks the 27th straight day of an ongoing lockdown across the country announced by the government to contain the spread of the pandemic.
The lockdown which was announced on March 25 has been extended until May 3.
Meanwhile, the health ministry Monday said the doubling rate of the COVID-19 cases has slowed down from 3.4 days before lockdown to 7.5 days.
The doubling rate of the cases is considered an indicator of how fast the infection is spreading.