German restaurant delisted from Michelin Guide for its discriminatory remark on Chinese people
People's Daily app
1589636802000
"Im Schiffchen", a well-known German Michelin-starred restaurant in Düsseldorf, was removed from the recommendation list on the Michelin Guide's website on Friday for the discriminatory remarks on Chinese people made by the restaurant's chef Jean-Claude Bourgueil.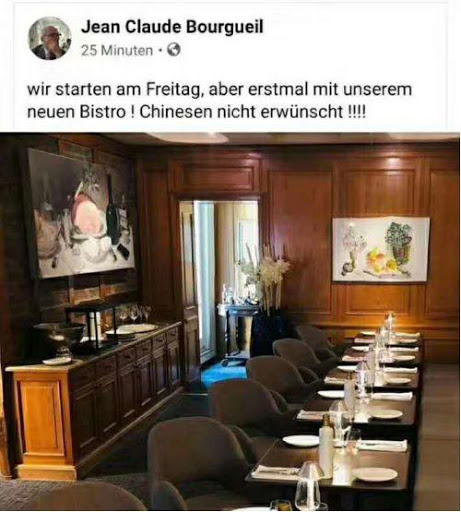 (Screenshot of the facebook post)
"We start on Friday, but only with our bistro. No Chinese wanted!!!" the 73-year-old chef wrote in his reopening announcement on Facebook Wednesday. His words soon stirred up outrage among the public, with many people blasting the comment as "racist" and "sickening." Bourgueil apologized later, calling it a "thoughtless statement" that he "formulated completely wrong."
On Friday, the Michelin Guide issued a statement to delist the restaurant from the recommendation list on its official website. "Respecting everyone is among the core values of Michelin, which is deeply embedded in the genes of our company. We are intolerant to any form of racially discriminatory comments. Michelin-starred restaurants have always been open to everyone, regardless of their nationality, cultural background or gender," added the Michelin Guide.