DR Congo massacres linked to inter-communal violence: UN mission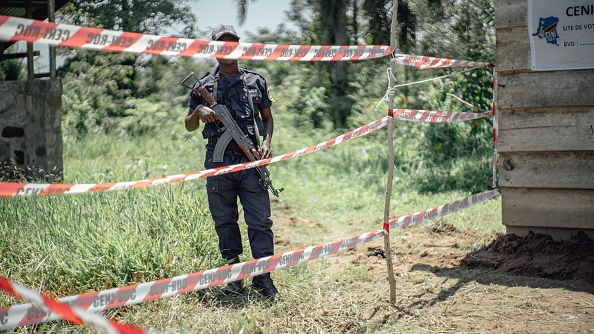 A policeman stands watch in a neighbourhood in the Democratic Republic of Congo. (File photo: Getty Images)
A source with the United Nations peacekeeping mission in the Democratic Republic of Congo said that intercommunal violence might have been the probable cause of two recent deadly massacres in Ituri province.
Ituri's provincial interior minister Adjio Gidi had blamed the Allied Democratic Forces, a Muslim rebel group, for the two attacks. In the first attack, 23 people were killed in Irumu territory in southern Ituri on Tuesday, followed by another 35 on Thursday.
However, the UN source told AFP that the attacks may have been between communities and he added that they had not "got confirmation of the (death) toll figures."
"It doesn't appear to be the ADF," the source said. "It seems that these are intercommunal conflicts."
Armed groups from the Hema and Lendu communities engaged in long battles from 1999 to 2007 along the DR Congo's border with Uganda at the peak of the country's war years.
Retaliatory attacks between the Lendu and Hema erupted in 2017 after years of relative calm as tensions over land and other unresolved issues resurfaced.
The ADF, originally from Uganda and created in 1986, pledged its allegiance to Islamic State and the group has endorsed some attacks by the ADF; however, researchers say there is no evidence of close collaboration.
In late 2019, the Congolese army launched a crackdown on militias in the east, resulting in reprisal attacks in which armed groups killed hundreds of people.
A report by the United Nations Joint Human Rights Office (UNJHRO) in July said the attacks committed by the ADF may constitute war crimes.
The UNJHRO estimated that at least 1,066 civilians have been killed and 176 others wounded while 717 others have been kidnapped by ADF combatants in North-Kivu and Ituri provinces since the start of last year up to the end of June.
(With input from the United Nations)