US imposes fresh sanctions targeting Venezuela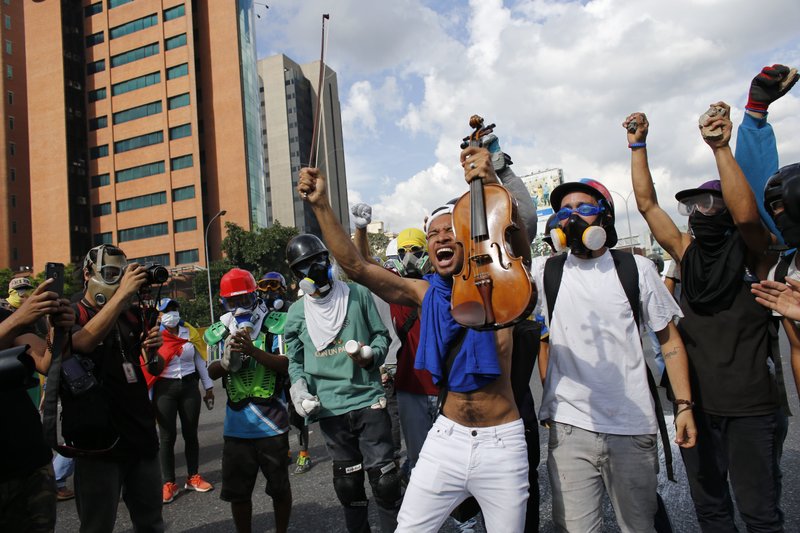 In this May 6, 2017 photo, holding up his violin, Wuilly Arteaga shouts during an anti-government march in Caracas, Venezuela. Arteaga has become a symbol of peaceful protest largely overshadowed by frequent clashes between rock-throwing youths and heavily armed security forces. (Photo: AP)
WASHINGTON, Jan. 13 (Xinhua) -- The United States has imposed sanctions targeting seven Venezuelans, including the newly elected head of the country's parliament, the US Treasury Department announced on Monday.
The Treasury said in a statement that it has blacklisted seven National Assembly delegates, including Luis Parra, the new president of the Venezuelan National Assembly, claiming that the designated persons "took steps to undermine the elections process in the National Assembly."
Following the designation, all property and interests in property of the punished individuals subject to US jurisdiction are blocked, and US citizens are generally prohibited from engaging in transactions with them.
Venezuela's National Assembly convened on Tuesday with opposition deputy Parra serving as president of the legislative body.
Hardline opposition leader Juan Guaido lost his bid for reelection as president of the assembly to Parra over a week ago, an outcome Guaido and his group refused to accept.
The United States has been pursuing a policy of economic sanctions and diplomatic isolation against the Venezuelan government in support of Guaido.