57 Buffalo police officers quit unit to protest colleagues' suspension
People's Daily
1591425158000
All 57 members of the Buffalo Police Department's Emergency Response Team resigned this Friday to display solidarity with the two officers who were suspended after being filmed shoving a 75-year-old man to the ground during a protest on Thursday night.

The 75-year-old man was identified as Martin Gugino and is currently hospitalized with a head injury, according to the New York Post.
This video taken by WBFO, a local radio station, shows the 75-year-old protester approaching a group of officers during a protest against the death of George Floyd shortly after Buffalo's curfew began on Thursday evening in Buffalo, New York.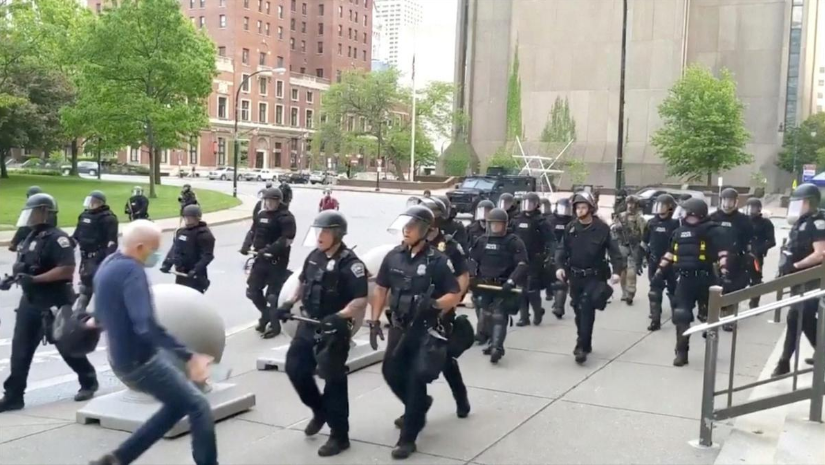 A screenshot from the video. (Photos: CGTN)
In the video, Gugino tried to stop a group of the officers and to talk while an officer yells "push him back," and then another one extends his baton toward Gugino. Several seconds later, Gugino fell backward and blood can be seen leaking from his ear.
An officer then leaned down to examine the old man but then was pulled away by another. Several other officers were captured walking by the motionless old man without looking in his direction.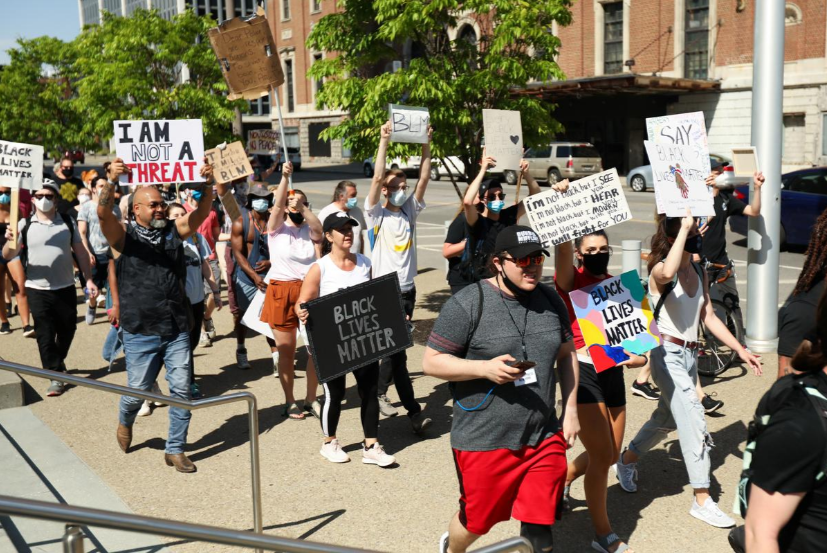 Demonstrators march in protest against the death in Minneapolis police custody of George Floyd in Buffalo, New York, US, June 5, 2020.
John Evans, the president of the union who represents Buffalo police officers, confirmed the resignation later on Friday.
"These officers were simply following orders from Deputy Police Commissioner Joseph Gramaglia to clear the square," Evans said. "It doesn't specify clear the square of men, 50 and under or 15 to 40. They were simply doing their job. I don't know how much contact was made. He did slip, in my estimation. He fell backwards."
The video soon went viral on social media and sparked an intensified discussion across the US.
"The most awful part of this was how the cops just kept walking by this man as he lie on the ground and bleeding," said one comment.
"That sounds like really good news for everyone in Buffalo. If Apple invented the camera phone, they deserve the Nobel Peace prize," Jo from San Diego, California, said.
New York Governor Andrew Cuomo said on Friday he had spoken with Gugino and was thankful he survived. Cuomo said the police chief should fire the officers involved.
"You see that video and it disturbs your basic sense of decency and humanity," Cuomo told a daily briefing. "Why, why, why was that necessary? Where was the threat?"
The Buffalo Police Department has been accused in a lawsuit of discriminating against minorities in recent years.