Fund launched in murdered Chinese student's name
The legacy of a Chinese student who was murdered in 2017 less than two months after arriving in the United States to pursue her dream of studying abroad has been memorialized by a fund set up in her name to support international students.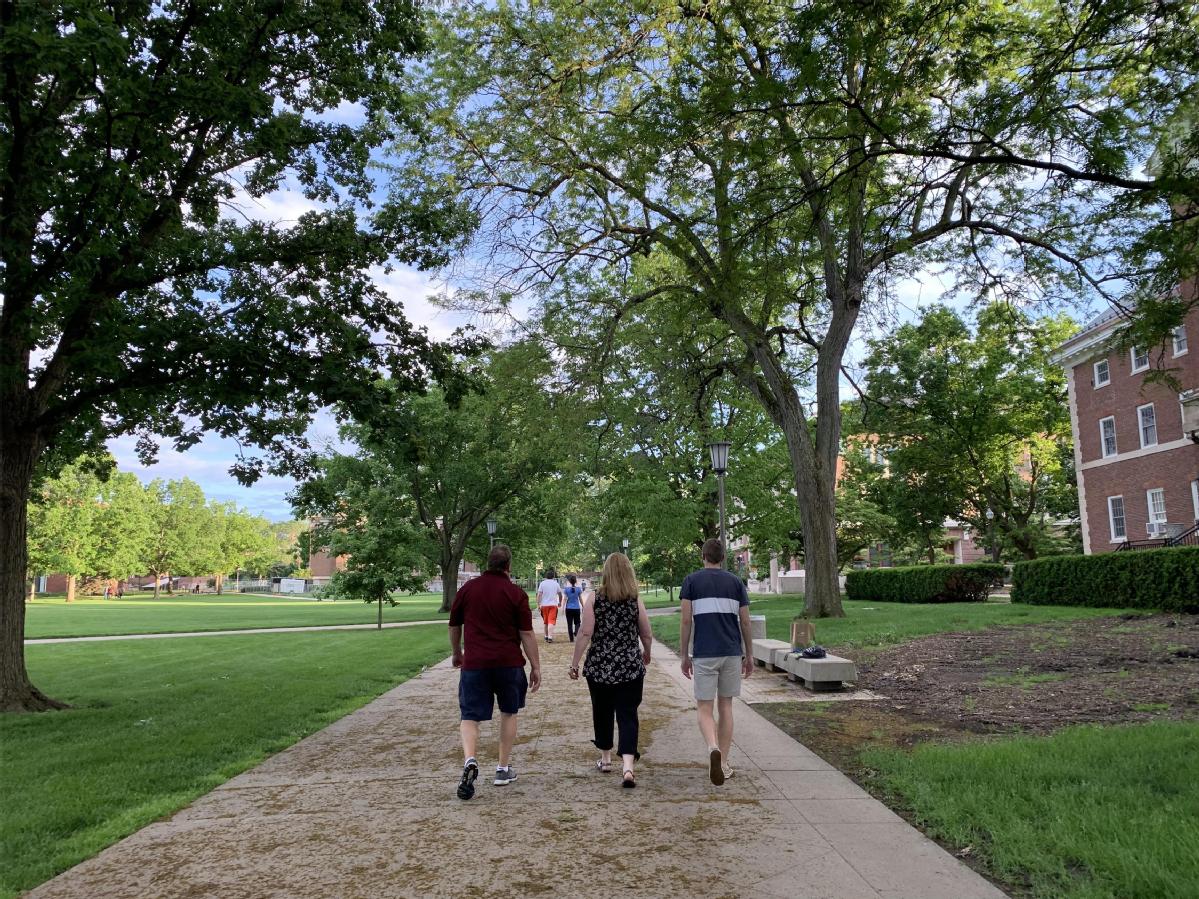 The campus of the University of Illinois at Urbana-Champaign. (Photos: China Daily)
Named after Zhang Yingying, the fund, founded by the University of Illinois with the support of Zhang's family, will help students in times of hardship or crisis.
Robert Jones, chancellor of the university's Urbana campus, said he had been inspired by the family's desire to set up the fund.
"The Zhangs, cherished members of our own Illinois family, are going through one of the most challenging times in their lives, and yet they are still thinking of others. Their gift will make an enormous impact when these students and their families need it most," Jones said.
The family provided the initial amount for the fund, which has not been disclosed. The fund, which was announced on Aug 5, attracted more than 400 supporters and raised over $53,000 in less than a week.
It is designed to support international students and their families in times of crisis, and to back affected students in continuing their education.
In times of need, it may also be used to support travel expenses, including airfares, accommodations and meals, for a student's immediate family members.
Vonderene Howard Swigart, from Virginia, who has long followed Zhang's case on Facebook, wrote: "I hope the university will also confer on Ms Zhang an honorary doctorate in absentia. With this memorial fund, her legacy will continue in perpetuity-we will never forget."
Addressing hundreds of local community members during a memorial service dedicated to Zhang on Friday, her father, Zhang Ronggao, reiterated his care for the entire international community as the new semester is about to start.
"We hope that everyone can take care of international students. We hope that students can stay safe so that their parents aren't worried. Everyone please reach out and help these students and don't let such a tragic event happen again," he said.
In a eulogy read at the service, Zhang Yingying's fiance, Hou Xiaolin, wrote: "Over the past two years, I have been fully aware of the influence of Yingying's case on the community. It impacted the university, the police department, the local Chinese and American communities, even the greater American public." The eulogy was read by Zhang Yingying's younger brother.
According to Hou, international students should become more aware of their personal safety and security, the local police should be more alert and quicker to respond to reports of missing students, and the local Chinese community should be more united than ever.
"I believe that the American public and people from all over the world have not only witnessed what Yingying suffered and mourned for her, but at the same time, every one of us has witnessed the dignity, strength and kindness of a Chinese citizen," he said.
Despite her tragically brief life, Zhang Yingying left her mark on many communities, with friends, locals in Illinois and people around the world sending messages of support in the two years since she went missing on June 9, 2017. They also mourned on learning she had been killed.
Shortly after Zhang disappeared, well-wishers placed flowers, a teddy bear and photos of her near the bus stop where she was last seen.
A surveillance camera near the stop captured footage of her getting into the car of former University of Illinois student Brendt Christensen, who was last month sentenced to life in prison after being convicted by a federal court of kidnapping and killing her.
In October, a memorial garden for Zhang Yingying was set up near the bus stop.
Jones, the university's Urbana campus chancellor, said at a dedication ceremony for the garden that the place "will truly be a profound space that brings a bit of joy and a bit of peace at the same time".
University spokeswoman Robin Kaler told the institution's student newspaper The Daily Illini, "It is very clear that Zhang Yingying left a very important mark on our university and brought a lot of people together," adding that the garden gives people "a place to go to remember her, to think of her and to feel peace".
The 56-square-meter garden, which features a stone engraved with Zhang Yingying's name in both Chinese and English, was designed by two local gardeners.
Urbana resident Judith Parker posted on Facebook: "Her garden is beautiful. Much thought was given to the selection of plants. Many people will tend it with love, and it's very likely it will be a comfort to those who need it."
A Facebook post by Marsha Dunlap, an executive administrative assistant at the university, stated: "My heart is saddened as I drive out of the parking garage across from her memorial every workday. I do hope that in the future they find your (Zhang Yingying's) remains and can send you home" to family and loved ones.
Finding the student's remains and returning them to China has always been the family's primary goal.
After Zhang Yingying went missing, hundreds of people joined the search for her, including students, members of local Chinese communities, her colleagues, teachers and friends, and local residents, some of whom may never have met her.
Some volunteers continued the search after Christensen was arrested on June 29, 2017, and law enforcement agents said they no longer believed the student was alive.
The whereabouts of her remains remained a mystery until recently when her family was given details by prosecutors late last month of what Christensen told his defense team.
According to information from the team and the authorities, the remains may be in a private landfill in Vermilion Country, Illinois, covered by a substantial amount of compacted earth.
The website for Yingying's Fund.
On Aug 7, the family said at a news conference that it "now understands that finding her may be impossible", but her father said it was still the family's No 1 wish for the remains to be located and taken home.
"If Yingying's remains are ever found, we will return to take her home to China, where she belongs," he said, adding that the family would let the authorities decide whether or not to search for them. No search has yet been carried out.
On Friday, a private ceremony was held for the family at the memorial garden, where a wooden box containing Zhang Yingying's personal items was buried.
"We hope it will be a solemn place of reflection to all who visit, a place to remember the joy Yingying brought to her family and to everyone she met during her life," her father said at the garden.
Numerous memorial events held on-and off-campus, and Christensen's closely watched trial, allowed the local community and outside world to learn more about Zhang Yingying, who was described by her family and friends as "inspiring, thoughtful and full of smiles".
"She is definitely the most innocent person I have ever met," Li Yanyu, a high school friend, said in a video played during the trial, which lasted nearly a month.
Zhang Yingying helped her mother with housework and took good care of her younger brother, Li said, and her parents described her as the "hope of the family".
Born and raised in a working-class family in Nanping, Fujian province, Zhang Yingying excelled at school, while developing a positive and caring personality.
Her father said she applied for scholarships and financial aid to ease the burden on the family.
Zhang was the first in her family to get a college education. She was a top student at Zhongshan University in Guangzhou, Guangdong province, where was an undergraduate, before going to Peking University Shenzhen Graduate School in Guangdong.
In April 2017, she arrived at the University of Illinois as a visiting scholar to conduct research on photosynthesis and crop productivity for one year. She was considering entering a doctoral program at the university with a view to becoming a professor back in China.
"She was always resolute and never gave up on her dream of scientific research or studying abroad," Wu Shuang, a graduate school friend, said in video testimony played at the trial.
Discussing Zhang Yingying's decision to further her studies in the US, Wu said, "Research on environmental protection is more advanced (in the US) than in China in some respects."
In footage played at the trial, Zhao Kaiyun, another friend from graduate school, said Zhang Yingying hoped to improve life for her family through her own efforts.
She saved money to buy things for her family, such as a microwave oven and a refrigerator, or gifts for her brother, Zhao said.
Zhang Yingying's mother, Ye Lifeng, said her daughter was always ready to aid others. She wanted to assist those who were in poverty and in desperate need of help, and volunteered to teach in rural areas of China when she was in graduate school.
Hou, Zhang Yingying's boyfriend for eight years, said their relationship was "characterized by inspiring one another, mutual encouragement and continued support" and she had made him a better person.
When her murder was reported, the couple had been planning to marry four months later.
Wu said, "She told us a few days before she died that her professor had agreed to let her enter the PhD program, which was a great joy to her."
A friend of Zhang Yingying wrote anonymously in a pamphlet that was handed out at Friday's memorial service: "Do you still remember that we made a promise that we would attend each other's weddings, and have a close relationship with each other's family? I'm still waiting."