Seoul committed to inter-Korean agreement despite Pyongyang's warning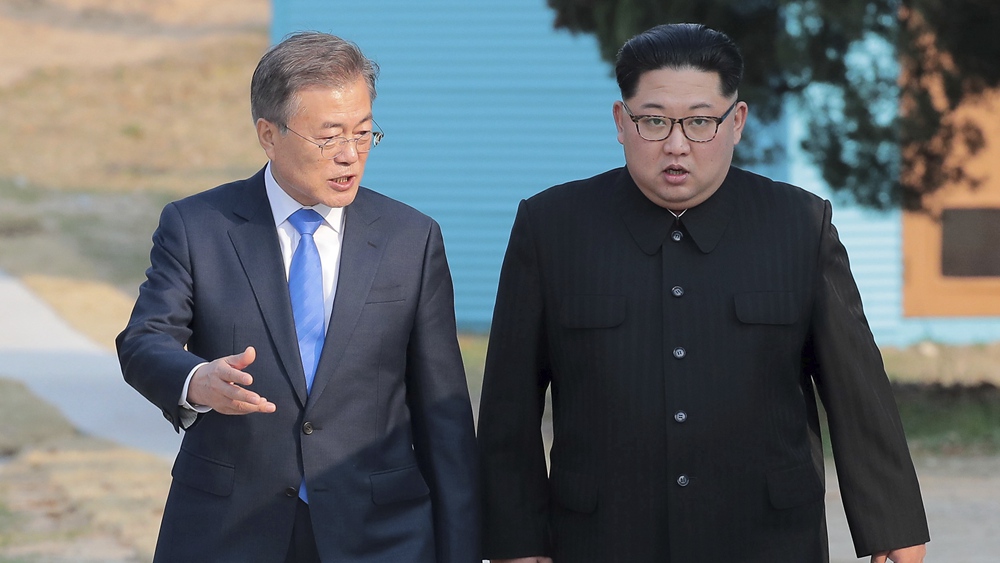 DPRK leader Kim Jong Un (R) and ROK President Moon Jae-in talk at the border village of Panmunjom in the Demilitarized Zone, April 27, 2018. (Photo: AP)
The Republic of Korea (ROK) is committed to the agreements reached between President Moon Jae-in and leader of the Democratic People's Republic of Korea (DPRK) Kim Jong Un, the ROK's Unification Ministry said in a statement on Sunday, following Pyongyang's threats to shut down an inter-Korean joint liaison office and scrap their military agreement on easing tensions.
"Our basic position is to comply with the agreements made by the leaders of the South and North, such as the Panmunjom Declaration," the ministry said, according to Yonhap news agency.
The statement was released after the United Front Department (UFD) of the Central Committee of DPRK's ruling party, which handles inter-Korean affairs, made the threats on Friday in protest of anti-Pyongyang leaflets sent from the ROK by "defectors from the North."
Moon and Kim signed the Panmunjom Declaration during their first-ever summit at the border village of Panmunjom on April 27, 2018, vowing to put an end to the Korean War and beginning a "new era of peace" on the Korean Peninsula.
They held two more summits later that year as inter-Korean relations warmed up. The DPRK and the ROK launched their joint liaison office in the border town of Kaesong in the North in September 2018 to enable round-the-clock communication.
But inter-Korean cooperation stalled after a summit between the DPRK leader and US President Donald Trump collapsed in Vietnam's Hanoi in February last year.
The DPRK on Friday announced its withdrawal from the joint liaison office.
Kim Yo Jong, first vice department director of the Central Committee of the Workers' Party of Korea and also Kim Jong Un's sister, threatened earlier this week to scrap the military agreement with the ROK unless Seoul stops the anti-Pyongyang leaflets from being sent across the demilitarized zone. She also threatened to completely dismantle their joint industrial park in Kaesong.