Myanmar, S. Korea sign package of agreements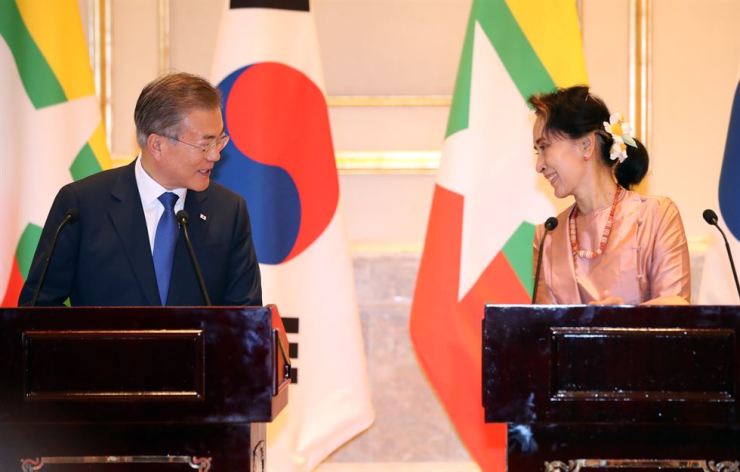 Photo: Agencies
YANGON, Sept. 4 (Xinhua) -- Myanmar and South Korea have signed a package of five agreements in Myanmar's capital of Nay Pyi Taw during the first day of a state visit of South Korean President Moon Jae-in to Myanmar, local media reported on Wednesday.
The agreements, signed on Tuesday shortly after Moon's arrival, cover one on loan framework for cooperation in economic development from 2018 to 2022, a memorandum of understanding (MoU) on establishment of an information center in Yangon to facilitate South Korean investment in Myanmar, an MoU on cooperation in shipping line, upgrading shipyards, transport and construction and management in the docks, an MoU on cooperation in science and technology and an MoU on cooperation in emerging businesses and innovation sector.
Prior to the signing, Myanmar President U Win Myint and State Counselor Aung San Suu Kyi met with Moon separately and discussions were respectively made on promotion of friendly ties and cooperation, investment, economy, agriculture, construction, transportation, cultural exchange, human resources development, establishment of Korea-Myanmar industrial complex, industrial sector development and promotion of tourism industry.
They also exchanged views on peace and stability of the Korean peninsula, emergence of business opportunities between the two countries in line with the new Southern Policy adopted by South Korea, creating more employment opportunities for Myanmar migrant workers in the East Asian country, protection of their labor rights and peace making efforts in Myanmar.