Macron seeks Ukraine progress from Putin in rare pre-G7 talks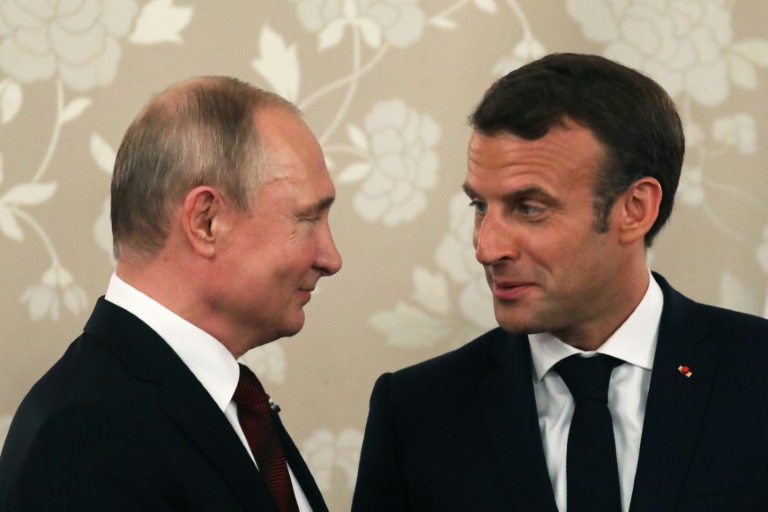 Russian President Vladimir Putin, left, and French President Emmanuel Macron at the G20 Summit in Osaka, Japan, in June. (Photo: AFP)
French President Emmanuel Macron hosts his Russian counterpart Vladimir Putin on Monday for a rare visit, with Paris hoping to nudge Moscow towards steps to help end the conflict in the east of Ukraine.
Putin is seldom invited by major Western powers for visits at a time of growing tensions, but France believes the arrival of Volodymyr Zelensky as Ukraine's new president could give a new impulse to halting the fighting.
Macron will welcome Putin at 5:30 pm (1530 GMT) at his official holiday residence in Bregancon in southern France, days before he hosts other world leaders including US President Donald Trump for the August 24-26 Group of Seven (G7) summit in Biarritz.
Russia was slung out of what was the G8 in 2014 after it seized Ukraine's Black Sea peninsula of Crimea, an annexation the international community has deemed illegal.
And since 2014, an estimated 13,000 people have been killed in the war between Ukrainian forces and Russian-backed separatists over Ukraine's eastern Donbass provinces of Donetsk and Lugansk.
Room to manoeuvre
Zelensky has pledged to end the five-year-old conflict and shown signs of greater willingness to be flexible than his predecessor Petro Poroshenko, though he has not signalled any major concession.
"President Zelensky has made offers to which -- it seems to us -- President Putin should respond in an encouraging way," said a French official, who asked not to be named.
"We will intensify our efforts on the question of Ukraine, notably within the Normandy format" that groups Russia, Ukraine, France and Germany.
"The election of President Zelensky gives us some room to manoeuvre," the official added.
Macron has taken a keen interest in brokering an end to the conflict in eastern Ukraine, hosting Zelensky for talks in June, one of the former comedian's first foreign trips as president.
It would be a major feather in the cap for Macron, who since coming to office in 2017 has sought to magnify France's international role.
'Chance of progress'
Zelensky has offered to meet Putin for face-to-face talks, saying "let's do it", and spoke to him by phone last week when four Ukrainian soldiers were killed in a grenade attack.
"I called him urgently. I told him that this brings us no closer to peace," Zelensky said.
Alexander Baunov, a senior fellow at the Carnegie Moscow Center, said Macron would be looking for ways to resuscitate the 2015 Minsk ceasefire deal.
"The main public issue will be reviving the Minsk accords. The main promise of the Ukrainian president is ending the war," Baunov told AFP.
He said he believed Putin would be prepared to make a move if the Donbass region, which has a large ethnic Russian population, received a special status within Ukraine.
"There is a real chance of progress. Moscow will only go in that direction if its main conditions are respected," Baunov said, adding that these consisted of a transition period and local elections in which the main Ukrainian parties would not take part.
Treading carefully
Iran will also feature high on the agenda of talks between Macron and Putin, with Paris keen for Moscow to use its close ties with Tehran to prevent a further escalation of conflicts in the Middle East.
Tensions have shot up since Washington's unilateral pullout from a 2015 deal to rein in Iran's nuclear ambitions, known as the Joint Comprehensive Plan of Action (JPCOA).
Macron will also press Putin to use his influence on the regime of Syrian President Bashar al-Assad to stop an offensive in the northern region of Idlib and ward off new refugee flows towards Turkey.
On Russia's domestic front, France has repeatedly rebuked Moscow over its crackdown on protesters angered by a refusal to register opposition candidates for elections later this year.
But it remains to be seen if Macron will dare spoil the mood of such sensitive talks by raising that issue in public.
"Making a point to Putin on this would be seen as interference in Russian internal affairs, but if Macron decides to do this Putin will know what to say," Baunov said.
"What is said behind closed doors is another matter."