Japan's COVID-19 infections tops 6,480 with new daily record from Tokyo
TOKYO, April 11 (Xinhua) -- Japan's health ministry and local governments said the number of COVID-19 cases in Japan has surpassed 6,480, with more than 300 new cases as of 5:30 p.m. local time on Saturday.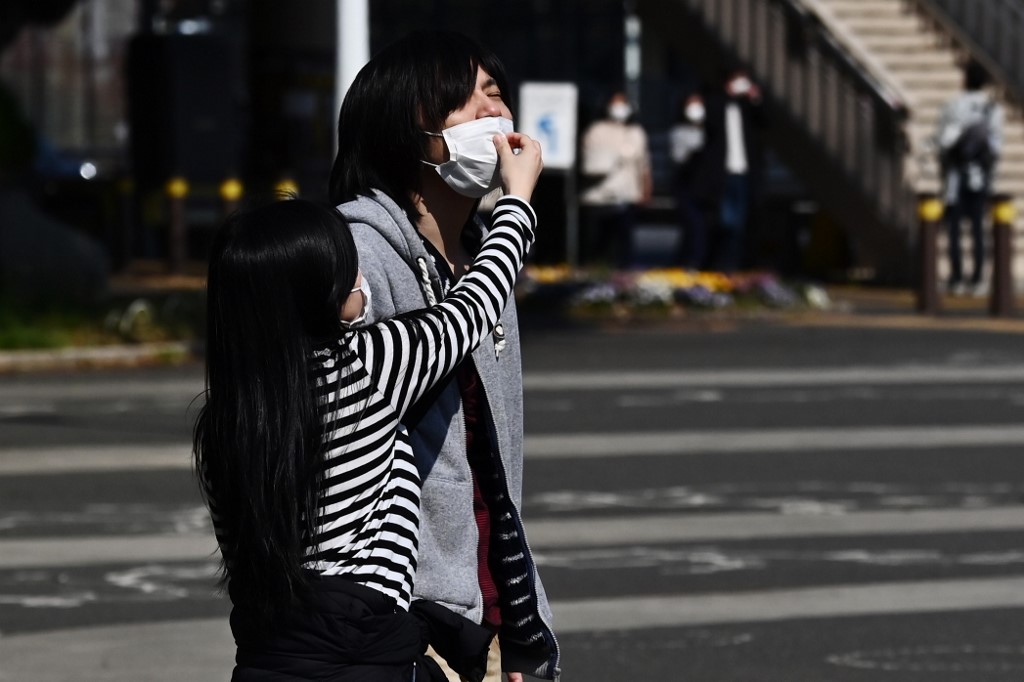 A woman adjusts her partner's face mask in Tokyo on April 11, 2020. (Photo: AFP)
The death toll in Japan from the pneumonia-causing virus currently stands at a total of 136 people, including 12 from the virus-hit Diamond Princess cruise ship.
Tokyo recorded a new daily record at 197 new cases, bringing the total number of infections in the capital, the epicenter of the nation's outbreak, to 1,902.
Osaka has recorded 696 cases, according to the latest figures, followed by Kanagawa with 457 infections.
Chiba Prefecture has confirmed 390 cases, Hyogo 355 and Saitama 338. Aichi, which declared its own state of emergency Friday, independent from the central government, has recorded 315 cases.
The health ministry also said there are currently a total of 125 patients considered severely ill with ventilators or in intensive care units.
The ministry added that in total, 1,353 people have been discharged from hospitals after their symptoms improved, according to the latest figures released Saturday.