Egypt announces plan to end Libyan conflict
People's Daily
1591500829000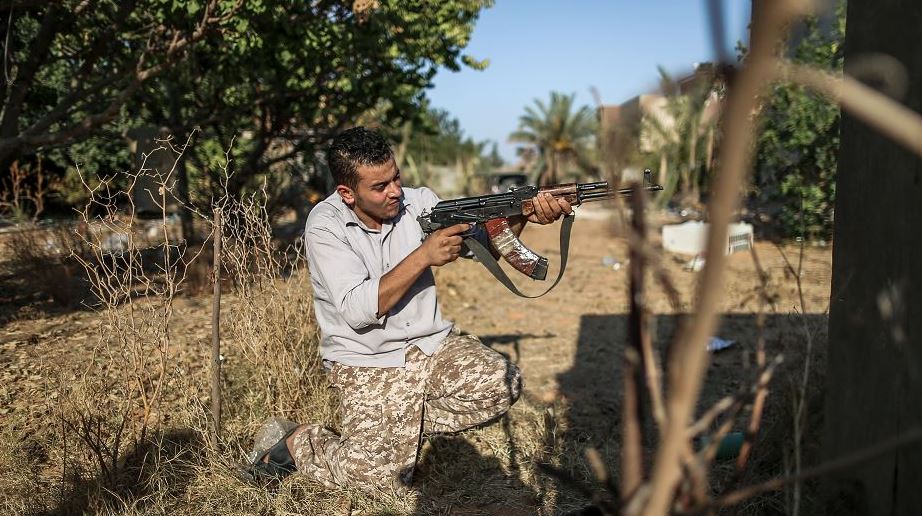 A fighter of Libya's UN-backed Government of National Accord (GNA) of Fayez Serraj, fires his rifle during clashes with forces of the self-styled Libyan National Army (LNA) led by Libyan strongman Khalifa Haftar, at Al-Khalla frontline. (File photo: CGTN)
Egyptian President Abdel Fattah al-Sisi on Saturday announced a unilateral initiative to end the conflict in neighbouring Libya, a plan that was accepted by Khalifa Haftar, the commander of the eastern-based Libyan National Army (LNA).
Al-Sisi told a news conference in Cairo that his initiative includes a cease-fire starting Monday and is meant to pave the way for elections in oil-rich Libya. He warned against continuing to look for a military solution to the country's crisis.
"There can be no stability in Libya unless peaceful means to the crisis are found that include the unity and integrity of the national institutions," el-Sissi said. "The initiative could be a new start in Libya."
There was no immediate comment from the Tripoli-based Government of National Accord under the command of Fayez al-Sarraj.
Libya has been dogged by conflict since the 2011 ouster and killing of former leader Muammar Gaddafi.
Gaddafi's death created a power vacuum that various armed groups sought to fill, resulting in an unending war that has killed thousands and driven hundreds of thousands out of their homes.
Haftar announced in early 2019 plans to forcefully take over Tripoli from the GNU, a plan that initially seemed to be on course until a Turkey intervention helped al-Sarraj's forces to push back the advancing LNA troops.
Al-Sisi's plan includes the formation of a presidential council in which Libya's three regions would be represented. That council would rule the country during a 1 1/2-year transition period followed by elections.
The plan also includes the unification of all Libyan financial and oil institutions, and the disbanding of militias, so that the so-called Libyan National Army and other security agencies can "carry out their responsibilities," el-Sissi said, without elaborating.
The Egyptian leader called for the withdrawal of all foreign fighters in Libya. Thousands of mercenaries, mostly form the war-torn Syria, have been fighting on both sides of the war.