Trump blasts DC mayor as 'incompetent' over force withdrawal request
People's Daily
1591419564000
U.S. President Donald Trump Friday fiercely lashed out at Muriel Bowser, mayor of Washington, D.C., calling her "grossly incompetent" after she requested Trump to withdraw thousands of National Guard troops deployed to the nation's capital in wake of protests over the killing of George Floyd.

In a series of tweets, Trump said Bowser is "in no way qualified to be running an important city like Washington, D.C. If the great men and women of the National Guard didn't step forward, she would have looked no better than her counterpart Mayor in Minneapolis!"
Trump said Bowser "is now fighting with the National Guard, who saved her from great embarrassment..."
Bowser has officially requested Trump to withdraw all feral law enforcement and military presence from the city on Thursday and called for soldiers to stop patrolling the city.
"We don't think that soldiers should be in the nation's capital patrolling or policing streets," Bowser told reporters on Friday.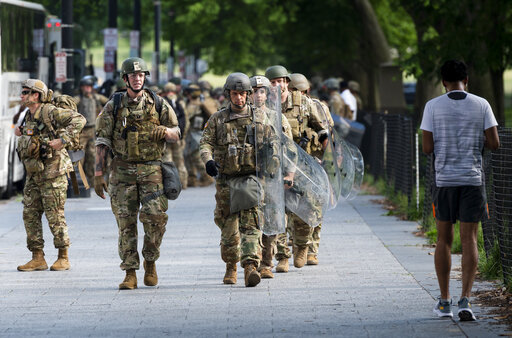 U.S. military troops disembark from tour buses as they are deployed inside the security perimeter at the White House as the George Floyd and police brutality protests continue in Washington, D.C., June 4, 2020. (Photo: AP)
Early this week, about 4,500 National Guard troops from around the U.S. were flown to Washington on Trump's orders.
Meanwhile, the Pentagon said it has also moved 1,600 U.S. Army soldiers to bases near Washington, D.C. and has them on alert to respond to protests and unrest if necessary.
That made the soldiers and officers deployed in Washington total 7,600, according to a Bloomberg report.
As protests continue in the city into the weekend, mostly in a peaceful manner, U.S. Secretary of Defense Mark Esper has ordered that active duty troops in the Washington, D.C. area should return to their home base of Fort Drum in New York.
A "Black Lives Matter" sign is painted on a street, during nationwide protests against the death in Minneapolis police custody of George Floyd, in Washington, D.C., June 5, 2020. (Photo: Executive Office of the Mayor)
In an another blow to Trump, Bowser, who is African American, also had a two-block long "Black Lives Matter" mural painted in massive yellow letters onto the street leading up to the White House.
On Friday, She also announced the section of 16th street in front of the White House has been officially named "Black Lives Matter Plaza."
Painters of this giant road message were contacted by Bowser and the work began in early Friday morning, according to CNN citing the mayor's office.