Qingming festival travelers stopping to smell the blossoms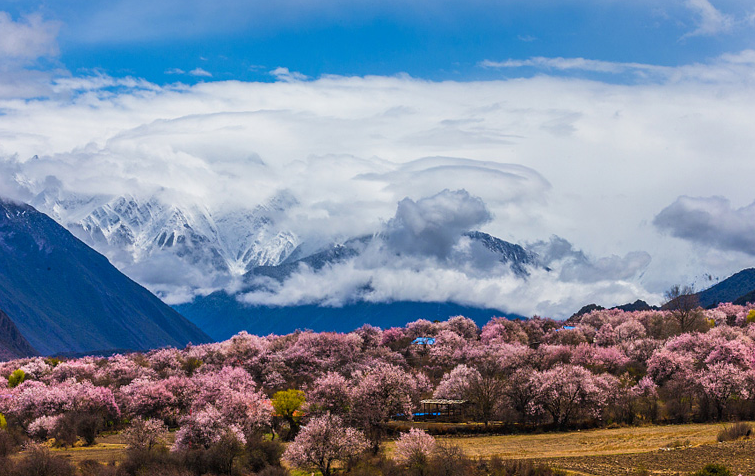 Peach blossoms bloom in a valley below the mountains in Nyingchi Prefecture. (Photo: VCG)
Flower blossoms are attracting travelers for spring outings during the approaching Qingming Festival from April 5 to 7, travel agencies said.

Data cited from Ctrip, an online travel agency headquartered in Shanghai, shows over 110 million visits will be made by Chinese travelers during the three-day break, who are scheduled to reach 790-plus domestic and overseas destinations in 88 countries and regions.
Enjoying the beauty of flowers is the main reason for traveling, Ctrip said, as rape flowers, peach blossoms and cherry blossoms in parts of southern China including Hunan, Hubei, Yunnan, Jiangxi provinces and Shanghai are in full blossom at the time.
According to China CYTS Tours Holding Co in Beijing, 87 percent of its users reserving domestic tour products on the platform chose to seek out peony and cherry blossoms in Shanghai and Jiangsu, Yunnan, Sichuan and Henan provinces.
Foreign destinations highlighting blooming flowers also attract Chinese travelers to spend their breaks there. Japan, for example, has become a popular destination for Chinese visitors every March and April for its full-blown cherry blossoms.
Ctrip said about one million Chinese travelers will pay visits to Japan in this year's cherry blossom season, and spend tens of billions of yuan there.
Li Qiuyan, branding director with Lvmama, another online travel agency in Shanghai, said travelers are still excited about the break even though they only get three days off work — especially those senior college students that will graduate this June and are preparing a spring journey to finish out their college period with a bang.
According to Lvmama, self-guided tours and high-speed railways are the two most popular choices for travelers during Qingming Festival.
Qingming Festival, also known as Tomb-sweeping Festival in China, is a traditional Chinese holiday for spring outings and worshiping ancestors.