China reminds citizens in Sweden to pay attention to personal safety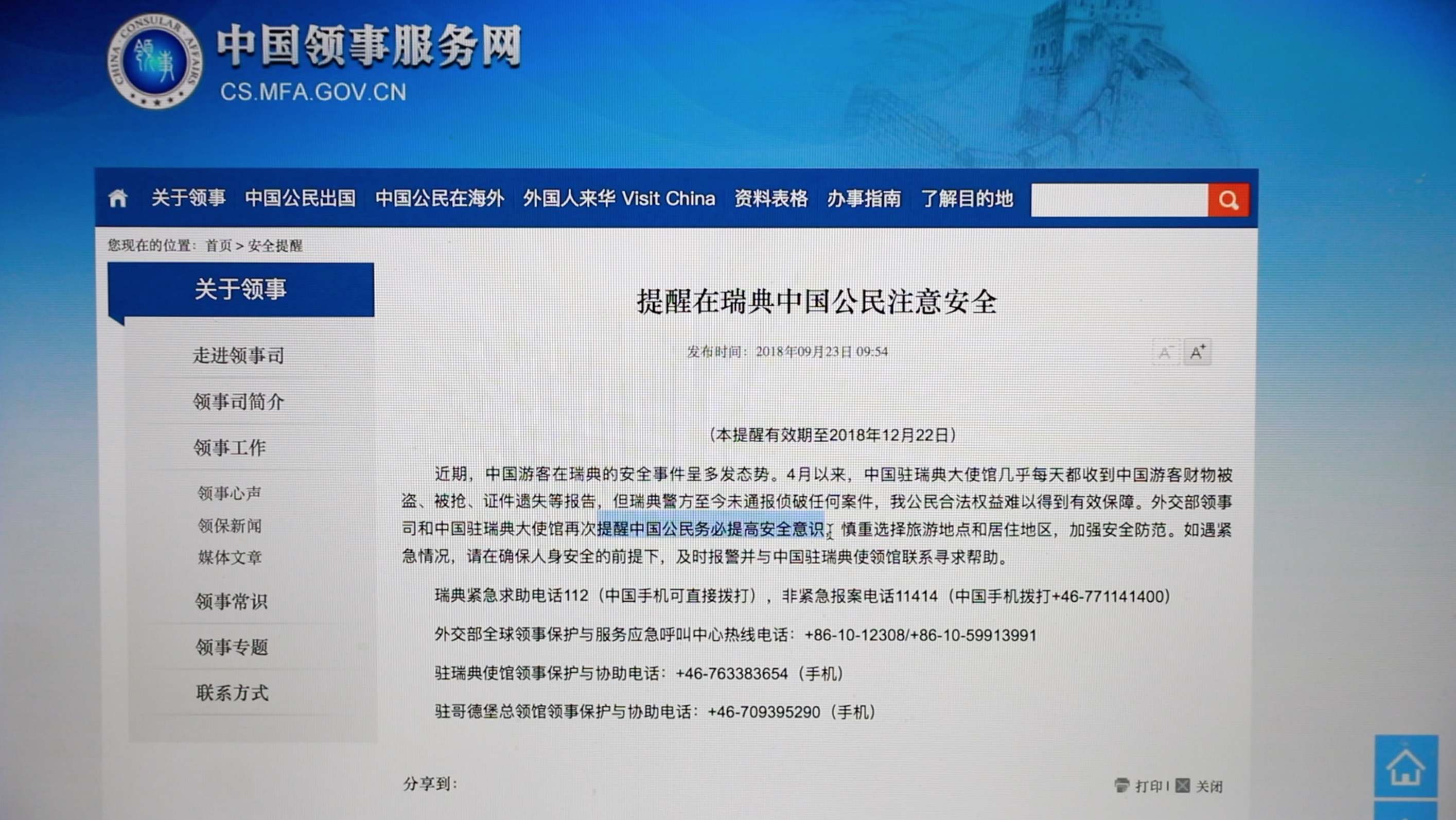 A screenshot of the alert posted on the website of the Chinese Foreign Ministry's Consular Affairs. (Photo: CGTN )
China's Foreign Ministry issued a safety alert on Sunday, cautioning people traveling to Sweden to pay attention to their personal safety.
The statement urged Chinese tourists to take extra precautions, saying the Chinese Embassy in Stockholm has seen frequent robberies and theft reports since April and the notice takes effect until December 22.
China accounts for a strong percentage of the globe's international tourists and one popular destination as of late for them is in northern Europe.
"Most 0f those who choose Northern Europe have previously visited Western European countries such as France. And they are seeking a more unique experience from the north," said a travel agent based in Shenyang, the capital city of China's northeastern province of Liaoning.
Pricey flights and higher costs of living in northern European countries means Chinese tourists could pay up to ten times as much as a vacation elsewhere in Europe. Nonetheless, some travel agencies in Shenyang still report a 10 percent increase in bookings to northern Europe each year.
Due to the higher costs, only more affluent Chinese people tend to choose to visit there, which also makes them prime targets overseas.
"Chinese tourists are commonly targeted because they tend to carry more cash than other travelers," Xing Miao, the manager for European tours at Shenyang Youth International Travel Service, said.
The manager strongly advised travelers to store their valuables mindfully and cooperate with law enforcement officers if necessary.
"Officers in most European countries are allowed to search your body as well as the car you're in and even pull out their guns in public. When they are on site, please do as instructed," said Xing.
He also added that it is important for tourists to respect local cultures and customs and try to avoid conflict at all costs.