Domestic travelers lured aboard cruise liners in Shanghai
A nationwide promotion campaign for Shanghai's cruise liner business was launched in north Baoshan District on Saturday to attract more travelers to take cruise liners from the city.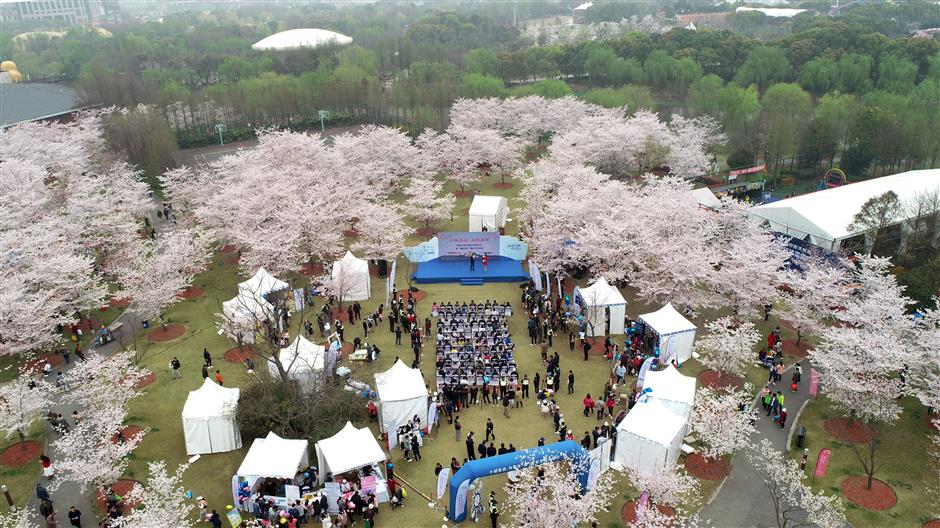 The Cruise Culture China tour promotion campaign starts amid the blooming cherry flowers at Gucun Park in Baoshan on Saturday. (Photo: Shine.cn)
The Cruise Culture China tour started amid the blooming cherry flowers at Gucun Park in Baoshan that has been attracting tens of thousands of visitors for the city's annual cherry blossom festival.
The Shanghai Cruise Center, along with the world's leading cruise liner companies such as Carnival, Royal Caribbean, Costa and MSC, will promote their newest ships and services in 10 coastal and inland domestic cities including Beijing, Chongqing, Fuzhou and Kunming.
A total of 11 cruise terminals have been built up since China set up a home port for cruises in Shanghai in 2006.
The Shanghai Wusongkou International Cruise Terminal, officially opened in 2011, has become the biggest home port for cruises in Asia, and it overtook Barcelona to become the fourth-largest in the world. It has served a total of over 2,000 cruise liners and 13 million inbound and outbound travelers since its opening.
Two new luxury cruise liners will sail from the terminal this year and make the Wusongkou terminal their home port.
The 168,000-ton Spectrum of the Sea from Royal Caribbean International will feature the iconic Sky Pad, a sphere with four bungee trampolines simulating a journey across the center of the earth and taking visitors on an adventure to another planet via virtual reality.
The 135,500-ton Costa Venezia, the largest cruise liner from Costa, tailor-made for the Chinese market, will set off from the Baoshan terminal in March.
To better service travelers from across the world, the terminal has begun offering shuttle buses to ferry passengers from the city's Pudong and Hongqiao international airports, as well as railway stations, to the terminal directly, the district government said on Saturday.