Thailand launches prepaid travel card
People's Daily app
1545415860000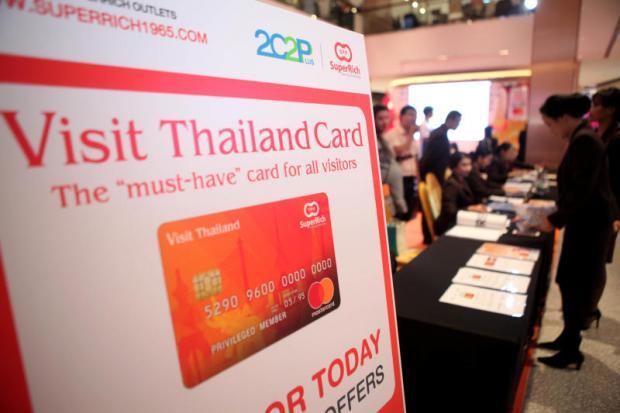 A display board for a new prepaid card service aimed at Thailand's indoud tourists. (Photo: File)
Spending money just became easier in Thailand as it was announced Friday that inbound tourists will now have access to a new prepaid travel card.
"SuperRich has operated in the money exchange business for more than 53 years. We are well-aware of local and foreign travelers' spending needs," said SuperRich Currency Exchange President Khun Piya Tantivachayanon.
In partnership with Mastercard, the company announced Friday the launch of the Visit Thailand Card.
At least 80 percent of all transactions in Thailand are conducted with hard currency, while the remaining 20 percent are carried out digitally.
The card is aimed at inbound tourists who typically exchange their currency upon arrival and will now have other options to choose from.
The card is available at the Suvarnabhumi International Airport, and at branches throughout Thailand.
SuperRich said once the foreign currency is exchanged and uploaded to the travel card, visitors will be able to take advantage of various savings opportunities and enjoy a cashless travel experience.
A cashless travel experience reduces the risk of having money stolen or losing it.
"If tourists still have money on the card at the end of their trip, they can exchange the value for their own currency at SuperRich branches before returning home," Piya said.
The company will soon include a mobile app that lets users check their balance and pay at some stores with a QR code.
For the past three consecutive years, Thailand has remained a top destination for tourists. For 2017, the Southeast Asian country received 20.5 million visitors.
Thailand is also home to two cities in the global top 10 for international visitor spending, with Bangkok listed at #5 and Phuket rounding out the list at #10.
Piya says SuperRich has 100 billion baht in transactions per year and 1 million users per month.
The company expects to issue 50,000 Visit Thailand cards within the first quarter.