A journey along the Chinese border – Dongxing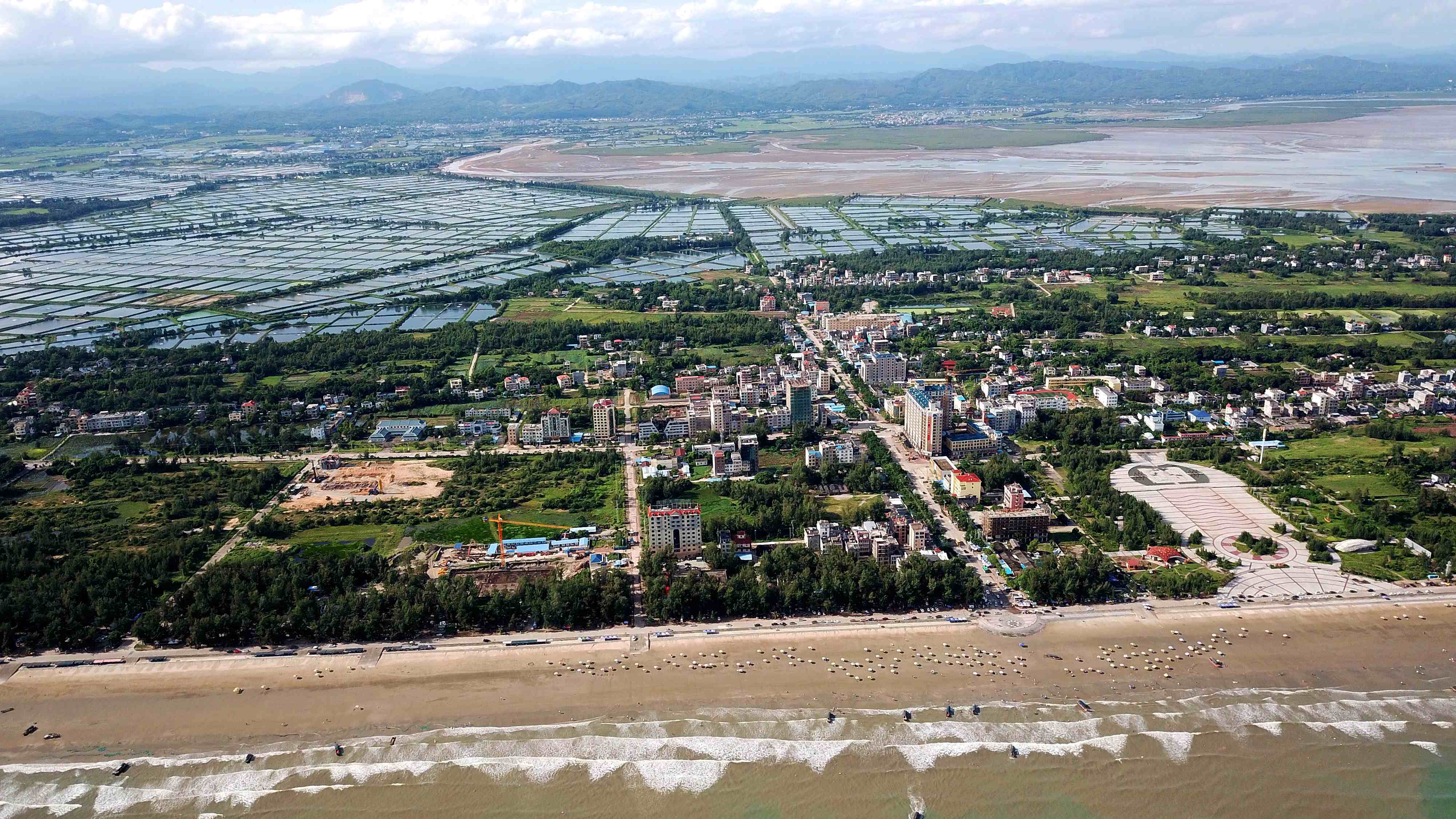 Wanwei Golden Beach in Dongxing City, south China's Guangxi Zhuang Autonomous Region. (Photo: VCG )
China has a land border of more than 22,000 kilometers, the longest in the world. Many of the border towns are diverse with both Chinese and foreign characteristics. CGTN has compiled a list of China's top 10 most beautiful border cities and towns for visitors.

Our final trip is to south China's Guangxi Zhuang Autonomous Region – Dongxing, a coastal city bordering Vietnam with Mong Cai lying on the other side of the border river. As Dongxing boasts a pleasant climate and ecosystem, it is also called China's longevity town. Let's step into this city and discover its secret of longevity.
Wanwei Golden Beach
Located on Wanwei Island in Dongxing City, the Golden Beach is named for its dazzling golden sand at sunset. Stretching for 10 kilometers, the beach is attractive to tourists with white and soft sand, as well as crystal sea water. Isn't it a wonderful thing to take a stroll on the beach with loved ones and appreciate the gorgeous sunset view?
The Jing nationality, one of the ethnic groups with a small population in China, are the main inhabitants of the Golden Beach area. Tourists are also advised to take a fishing boat to the sea and learn the traditional fishing techniques of Jing people. Don't miss the Jing Nationality Silk Noodles, regarded as one of Dongxing's "three treasures". Three Delicacies Porridge, known as "the top porridge in the world," is also highly recommended.
Tips:
Entrance fee: Free
Best visiting time: 4:00 p.m. to 6:00 p.m.
Transportation: A 15-minute bus ride will take you to the Golden Beach from Dongxing bus station.
Pingfeng Rainforest Park
Covering an area of over 1,700 square kilometers, Pingfeng Rainforest Park is located at the foot of Luohua Mountain of Dongxing City. The park consists of the Red Rock Valley Rafting Area and Shimen Valley Sightseeing Area, where tourists are greeted with lush plants and feel the moist fresh air.
Surrounded by green mountains, the Rainforest Park boasts numerous waterfalls and rivers where tourists can enjoy drifting, mountain camping, and picking fruits.
Tips:
Transportation: Tourists can take bus No.11 in Dongxing City to get to the scenic spot. The bus departs every 30 minutes with the earliest at 6:00 a.m. and the latest at 7:20 p.m.
Opening time: 9:00 a.m. to 6:00 p.m.
Dongxing Border Port
Dongxing Border Port is the connection between China and Vietnam. It is currently the main trade channel between the two countries. Tourists can buy Vietnamese specialties here and visit the No.5 Boundary Tablet in Qing Dynasty, Hu Zhiming Pavilion and China-Vietnam Friendship Bridge.
Many tourists come for a border tour as more convenient policies have been adopted to encourage cross-border tourism, including making group trips to Mong Cai in Vietnam and taking a self-driving tour by only using a Chinese ID card.
Tip:
Transportation: Tourists can depart from Nanning, the capital city of Guangxi Zhuang Autonomous Region and take a high-speed rail to Fangchneggang City and then take a city bus to Dongxing.