Traversing rocky mountains to a village in Liangshan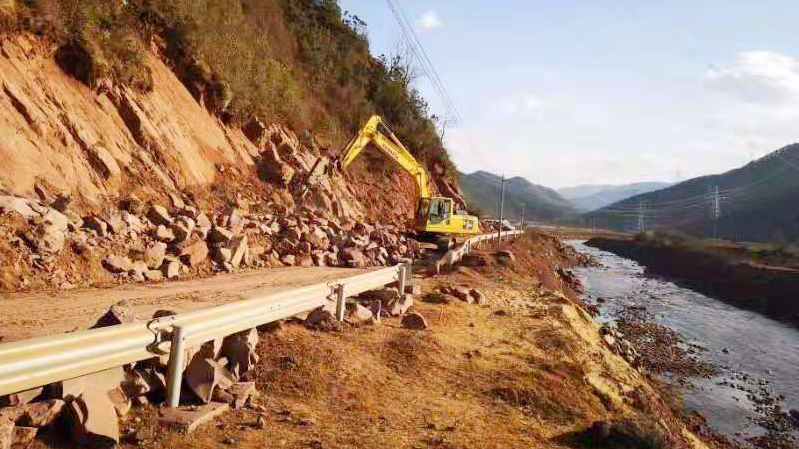 (Photo: CGTN)
It was possibly one of the bumpiest rides I've been on. And while uncomfortable at times, the view overlooking Qionghai Sea made up for it.

Nestled amid the mountainous Sichuan Province, getting up to Sanhe Village in Liangshan Yi Autonomous Prefecture, was no easy feat.
It's a stark reminder of the importance of concrete, accessible roads – one of the most basic forms of infrastructure.
On the way up the rocky terrain, it's hard not to spot the Yi ethnic group. Donned in their traditional wear, their skin shades darker than most, their ever-present smile lingers on as you drive past them.
Beneath these smiles, though, almost half of the village's 1,698 population live below its poverty line of 3,600 yuan (537 US dollars) a year.
In 2018, the village's average per capita disposable income is 3,520 yuan a year (that's 1.45 US dollars a day), just shy of its benchmark to be considered "out of the woods." For perspective, the per capita disposable income of rural people was 14,617 yuan a year, according to the No.1 Central Document 2019.
I read about Liangshan being one of the three poorest prefectures in China before I came here; the other two being Nujiang Lisu Autonomous Prefecture in southwest China's Yunnan Province and Linxia Hui Autonomous Prefecture in northwest China's Gansu Province.
I see why now – look no further than their living conditions and income-generating capabilities. But all this is about to change.
Remote and dispersed
Er Gu Er De, in his 20s, was outdoors with his family when we arrived at his decades-old home. He's among the 789 poor households in the village.
Inviting me into his windowless cabin, I wonder if they spend much time inside: where a 360 degree turn would grant you the view of three beds, a fireplace, food storage, and no toilets.
I got a laughter as a response from our local fixer (who has a few impoverished families under his reign – as he helps them out of poverty), that I almost felt embarrassed asking.
Curious, I asked how they find their present living conditions.
"Conditions are hard here in our old home. We don't have running water, little electricity," Er Gu's 73-year-old grandmother told CGTN in the local Yi language.
"And even to sell something is hard because we don't have proper concrete roads to ship these goods out. Like our potatoes for example," added You Zhe Ku Zuo, who had to hike kilometers up the winding dirt roads to her grandson's home to meet us.
This inconvenience in traveling is also why Er Gu's youngest six-year-old sister, despite of age, is unable to attend kindergarten yet.
First things first: Relocate villagers to new homes
When President Xi Jinping visited Sanhe Village in February, 2018, he pointed out the need to relocate people to new houses.
Secondly, to "develop some production projects tailored to local conditions, such as making preserved meat, raising pigs, planting potatoes, tartary buckwheat."
Er Gu's family is slated to move into their new homes in the next few months.
"I really look forward to our new home, because we won't have the capability to build it on our own," said Ri Huo Zuo Xi Mo, Er Gu's mother.
Construction of nine relocation sites has begun in April, 2018, with the first batch of villagers having moved into their new places in February 2019.
According to Zhang Ling, First Party Secretary of Sanhe Village, the relocation program has been received well thus far with villagers embracing their spacious new places which have a clear division of functions, namely bedrooms, bathrooms and kitchen.
I have heard of these villagers sleeping with their livestock. Unfortunately, Er Gu's cows and pigs were hanging outside when I was there.
'Bumping up' income-generating capabilities
It's these very livestock that Er Gu's family is banking on as a way out of poverty.
Er Gu spends most of his time in Guangdong Province working in a factory. And while he earns about 3,000 yuan a month, most of his pay goes to paying rent.
Together with his parents, they each are living on 2,900 yuan a year, mostly derived from selling corns, potatoes and chickens.
But there's light at the end of the tunnel.
"Two years ago, the local rural commercial bank has provided us with micro loans to buy cows. We now have three cows, which we are able to sell for 10,000 each," Er Gu said.
"The government has also loaned us seeds to plant higher grade potatoes, such that we can sell it when it harvests."
Local officials said as Liangshan's land is fit to cultivate only a few agricultural products, such as potatoes, honey and certain herbal medicine, the only way to boost income via this means is to expand the scale of these few earmarked agricultural products.
Education still the viable, sustainable option
There are 56 ethnic groups in China, with Han being the majority. The Yi ethnic group have their own language, culture, and way of living.
Yang Gao, who hails from Liangshan and works in human resources, said many of the young generation still face cultural and communication barriers when they head to other provinces to work.
The road to exposure and transcending this stumbling block is language.
It's this reason why at the two kindergartens in Sanhe Village, children from age three to six years are taught the Chinese language.
Re Li Ri Zuo, a kindergarten teacher, told me the kids also learn hygiene, nursery rhymes, and basic numbers.
"It's now government policy that rural children must attend kindergarten. And they enjoy it. I find them to be enthusiastic," she said.
However, the shortage of teachers remains a challenge.
"One teacher takes charge of 40 students now. Ideally, it should be one to 20," said Sha Ma Ri Zuo, Vice Principal of Sanchahe Primary School.
"Also, what's still missing here is a lack of support from the students' families. I suggest that parents and the school should work closely together."
The road ahead
As our car makes its way down the spiraling road back to Xichang, the seat of Liangshan and a two-hour away drive from the village, I can't help but to think what lies ahead for the Yi ethnic group.
Liangshan has a history of drug-trafficking and drug-taking but with instances reduced largely according to locals.
What does poverty mean to them?
This comes as the entire village gears up to be rid of poverty by the end of 2019, with firm measures put in place.
I'm told that they consider their farmland as their lifelines.
While the government will repair and maintain roads such that the villagers can still head back to their farmlands, located just beside their old homes, will they get used to their new way of living?
Comfort is relative, and so is happiness.
I will always remember the Yi ethnic group as a content and hospitable bunch. I wonder, can this trait be preserved, yet, at the same time ignite a drive in them to willingly strive for a better life?
Perhaps, as 30-year-old Yang puts it aptly, what's needed is to cultivate a certain wisdom to truly alleviate poverty.
"We should encourage our poor households to have a dream. The dream does not need to be too far-fetched or big, as long as one can live a good life," said Yang.
And it all starts with planting this little seed in them, via education in school and programs, one villager at a time.