Flights quota system hinders Chinese airlines' exploration to India
Global Times
1550190340000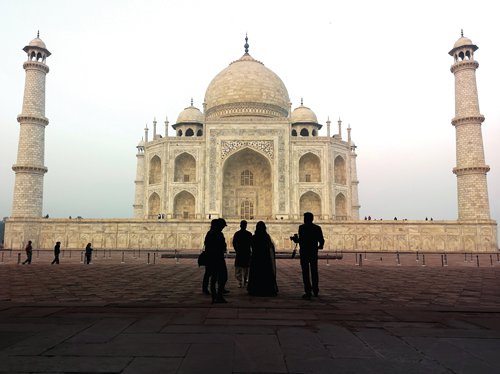 Visitors at Taj Mahal, India in November 2018 (Photo: IC)
Guo Tao, a 30s something Beijinger, spent his Spring Festival holidays in India again.

As a big fan of India, he could not forget the incredible country when he first visited there three years ago.

Flying from Kunming last week, he started his second trip with two friends, to celebrate the Kumbh Mela, and extend his travel itinerary to eight cities within half a month. But he found it is still not very convenient for him to fly from China to India.

"I need to fly to Kunming first, then to Kolkata, as there are no direct flights from Beijing to Kolkata at present," he said.

Kunming is the capital city of Southwest China's Yunnan Province, and the distance between Beijing and Kunming is more than 2,000 kilometers, which is a more than one hour longer flight than the flying time between Kunming to Kolkata. "The direct destinations in India are still very limited compared with other Western countries," he told the Global Times on Tuesday.

Unbalanced flights

According to the current quota between China and India, the passenger transport capacity is 42 flights each per week, but there are no restrictions on cargo routes.

However, at present, China has used up its entire passenger transport capacity quotas, yet the Indian side has only used 5 flights per week, Yu Biao, an official from the Civil Aviation Administration of China (CAAC) said on Wednesday.

Specifically, there are four Chinese carriers, Air China, China Eastern Airlines, China Southern Airlines and Shandong Airlines that have flights to India, connecting seven cities in China, such as Kunming, Shanghai, and Guangzhou in South China's Guangdong Province with three cities Delhi, Mumbai and Kolkata in India, Yu told the Global Times.

"Chinese airlines are looking forward to opening more routes to India in the coming years, however, passenger demand is still not well balanced due to the limitations of traffic rights between the two countries," Yu said.

Data from CADAS, a research institute under the news portal carnoc.com, showed that, Shanghai and Delhi are the two busiest cities in terms of the transport capacity in the market, flown by China Eastern and Air India, followed by Beijing and Guangzhou, but the capacity ranking in China has not changed in the last three years.

The three giants, Air China, China Eastern and China Southern hold an 80 percent market share, with China Eastern having the largest market share, CADAS said.

Air China recently celebrated the 12th anniversary of the opening of its route from Beijing to Delhi.

As early as October, 2006, the carrier opened the Beijing-Delhi route and then in October of 2015, it opened the direct flight from Beijing to Mumbai.

Air China explained the demographics of the air passengers traveling between China and India, where Indian passengers account for approximately 80 percent and Chinese passengers account for about 20 percent, but driven by the growth of China's investment in India, the growth rate of Chinese passengers to India has exceeded that of Indian passengers in recent years.

Booming demand

The International Air Transport Association (IATA) said in 2010, that 79 million people traveled to/from/or within India. By 2017 that passenger volume had doubled to 158 million, but that number is now expected to treble to 520 million by 2037.

The increasing capacity from China shows that there is a huge potential to increase passenger growth between the two countries.

After the informal meeting between the leaders of the two countries in Wuhan, Central China's Hubei Province last April, the development of Sino-Indian relations entered a "fast track", as the officials from the two countries are making promotional activities in the two countries.

Last year, there were one million passengers between the two countries, but there were only 200,000 Chinese visiting India, showing a huge potential to increase travelers from China, Chinese ambassador to India Luo Zhaohui said in January.

However, India's international market is growing more slowly than the domestic market. In 2017, there were about 60 million international journeys to/from India, of which low cost carriers accounted for about 25 percent of international capacity, IATA said, adding that about 41 percent of India's direct international connectivity is to the Middle East — much of it to the super-connector hubs of UAE and Qatar.

The market size of the Sino-Indian aviation market is increasing year by year, but the transit market accounts for a very high proportion, Yang Zhu, an official from Yunnan Airport Group in November last year, in a forum that was quoted by industry news portal carnoc.com.

His speech was echoed by Li Yi from Shandong Airlines, who said the current supply of direct flights between China and India is insufficient, and that over 60 percent of Chinese and Indian passengers have to transit through a third country.

Potential

IATA predicted that global passenger numbers could double to 8.2 billion in 2037, and the Asia-Pacific region will drive the biggest growth, with more than half the total number of new passengers over the next 20 years coming from these markets. Growth in this market is being driven by a combination of continued robust economic growth, increases in household income and favorable population and demographic profiles.

China will displace the US as the world's largest aviation market in the mid-2020s, and India will take third place after the US, surpassing the UK by around 2024, IATA said.

The development of international routes is also on the rise and India has become a major driver for the development of the global civil aviation industry, with India making great efforts to upgrade its facilities in a bid to meet the rising demand.

Meanwhile, there are some carriers from India that have shown an interest in China.

Chief Commercial Officer Willy Boulter, the owner of India's biggest airline by market share, IndiGo, said that it hopes to enter the Chinese market and that it plans to provide services from the summer this year. Further, AirAsia India also expresses an interest in the Chinese market, Qian Jiani, a researcher from CADAS told the Global Times on Wednesday.

However, India takes a cautious attitude toward signing air transport agreements with other countries in an effort to protect their local aviation industry.

Qian suggested that the airlines should consider having code sharing agreements and additionally that upgrading the transfer hubs could be another option.