Travel website removes countries without diplomatic ties with China
Global Times
1554678831000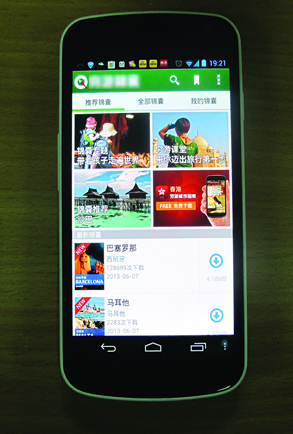 A cellphone screen displays a travel app. (Photo: GT)
Mafengwo, a major user-generated travel content website in China, removed content on some countries including Palau and Paraguay that do not have diplomatic relations with China from its website after government departments urged the company to strengthen its regulation.

A Global Times reporter on Sunday found that there was no search result for Palau on the platform. When searching "Palau and Mafengwo" in Google, the results were dead ends. Other countries that have no search results include Guatemala, Haiti and the Vatican.

All the five countries have no diplomatic relations with China and are not included in a list of 130 nations and regions open to group tours by China's Ministry of Culture and Tourism (MCT) in 2018.

The move came after the Beijing municipal government urged the Beijing-based company to strengthen political and legal awareness and shoulder its social responsibilities in business.

It should also improve its employee training and technical methods to effectively regulate content, according to the Ministry of Industry and Information's website on Wednesday.

A spokesperson of the company on Sunday told the Global Times that they would thoroughly check its working procedures to improve content management.

An industry insider who requested anonymity told the Global Times on Sunday that agencies are banned from organizing group tours to Palau as it is not in the list of the MCT, but offering hotel booking services and publishing travel notes and advertisements is a grey area.

In 2017, Tuniu and Tongcheng were fined over 300,000 yuan ($45,562) for offering travel packages to Palau and the Vatican and many platforms have reportedly dropped packages to these countries since then.