Feel the breeze of Sanya, 'China's Florida'
China Daily USA
1529686076000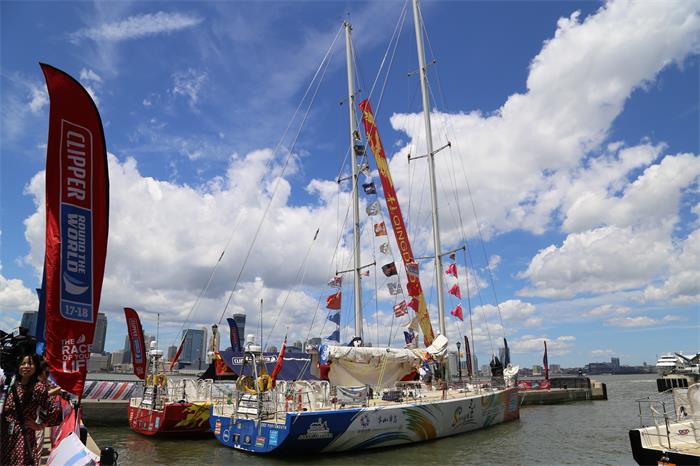 The Sanya Serenity Coast, a branded yacht for the city's tourism, docks at the North Cove Marina in Lower Manhattan on Tuesday. It's also taking part in the Clipper Round the World Yacht Race. JUDY ZHU / CHINA DAILY
Located at the southernmost point of Hainan province, Sanya is known as "China's Florida", a hot spot for seaside vacations. Now it's sailing a representative around the world to attract more international tourists.
Sanya Serenity Coast, a branded yacht for the city, docked at the North Cove Marina in Lower Manhattan on Tuesday as part of a Sanya tourism promotion.
Also on the race route for the Clipper Round the World Yacht Race, the vessel is used as a platform to promote the fast-developing holiday destination and sailing center in major ports of call, such as Cape Town, Sydney and New York.
Held biennially, the 2017/18 Clipper Round the World Yacht Race got underway in August 2017. The 40,000 nautical mile course is divided into 13 individual races and will conclude in Liverpool, England on July 28.
"We are taking a shortcut to make Sanya famous," said Zhao Kuan, secretary-general of Sanya Tourism Association.
"By joining the Clipper Race, we are building Sanya's reputation as an international sailing destination and further enhancing the city's long-term development strategy of combining sports and tourism," Zhao added.
With its distinctive combination of mountain, sea, beach and yearlong warm temperatures, Sanya was named one of 52 Places to Go in 2017 by The New York Times.
Statistics from the Sanya Tourism Development Commission show a steady growth in international tourism in recent years.
Starting May 1, citizens from 59 countries can visit Sanya for up to 30 days without a visa.
In May, Hainan province received 24,000 visa-free tourists from the 59 countries, up 8 percent year on year. Of them, 19,000, or 79 percent, entered China via Sanya, statistics from the provincial bureau of public security show.
"Sanya is benefiting so much from the new visa policy. We used to be visa-free for citizens from 26 countries for up to 15 days only. Now, we are welcoming more tourists from around the world," said Zhang Yue, director of sales and marketing at China Travel International Sanya.
Rosemarie James visited China eight years ago and didn't know about Sanya before the promotional event. James said she has made up her mind to visit Sanya next year.
"It's like the Caribbean. The culture, the beaches, the cuisine and everything. It's a place I would love to visit and tell my clients back home what it has to offer," said James, who is also a travel agent based in New York.
Contact the writer at judyzhu@chinadailyusa.com