Only road leading to Mogao Grottoes damaged by floods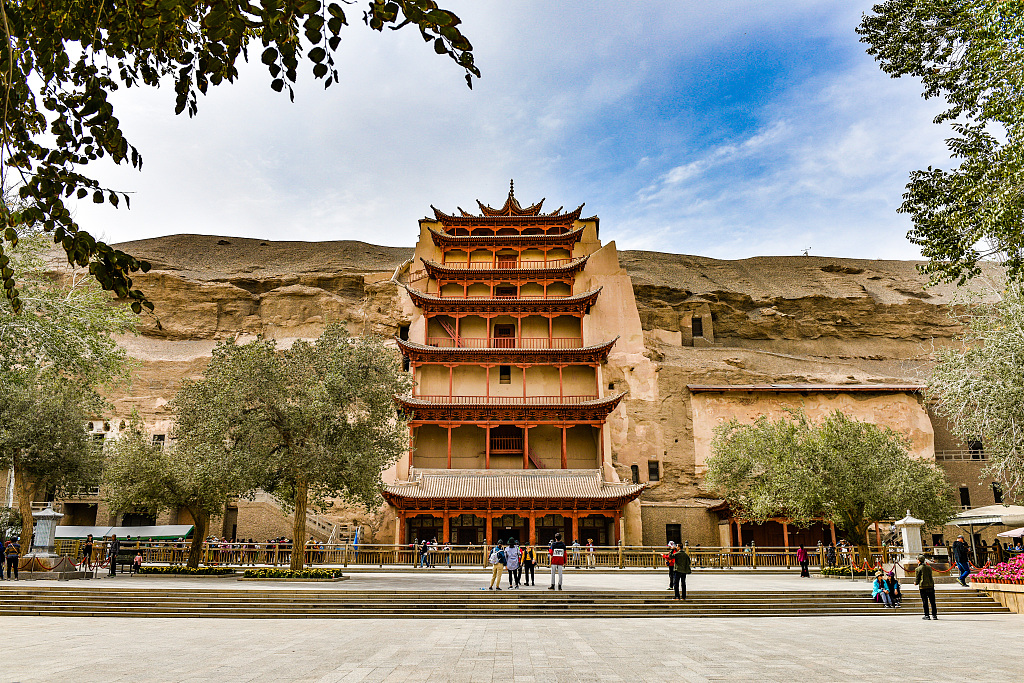 File photo of the Mogao Grottoes. (Photo: VCG)
LANZHOU, July 7 (Xinhua) -- The only road leading to the Mogao Grottoes, a renowned UNESCO World Heritage Site in northwest China's Gansu Province, was damaged by floods, local authorities said Sunday.
About 10 km away from the Mogao Grottoes, the section where the road meets a bridge was damaged by floods.
From 10 a.m. on Saturday to 9 a.m. on Sunday, heavy rain hit the city of Dunhuang, where the grottoes are located. The area around the Mogao Grottoes received around 40.4 mm of precipitation during the period.
Heavy rain triggered floods in the Daquan River which runs in front of the Mogao Grottoes. The shortest distance between the river and the heritage site is no more than 100 meters.
An initial investigation showed that the cultural relics of the Mogao Grottoes had not been affected by floods or rainstorms so far, said Luo Huaqing, deputy director of the Dunhuang Academy of China.
Workers have started to pump flood in front of the Mogao Grottoes since Saturday night. Now, there is no ponding as a result of heavy rain in front of the heritage site.
About 10,000 people were supposed to visit Mogao Grottoes on Sunday, according to the Dunhuang Academy of China.
Mogao Grottoes is closed on Sunday but will open to tourists after the floods recede and road traffic resumes, according to Luo.
Tourists who bought the tickets can get a refund at the ticket office.
Luo said, generally speaking, Mogao Grottoes is closed temporarily due to sandstorms or heavy rains to ensure the safety of tourists and cultural relics.
Such heavy rain, which continued for over 10 hours, is rare here, Luo said.
From 1981 to 2010, the average annual precipitation of the city was 42.2 mm, according to the meteorological bureau of Dunhuang. The bureau also forecasted that the city will see more rains from late afternoon to the evening on Sunday.
The Mogao Grottoes is home to collections of Buddhist artwork -- more than 2,000 colored sculptures and 45,000 square meters of murals -- in 735 caves carved along a cliff.
It was first constructed in 366 A.D. For more than 1,000 years, it was a popular marketplace, travelers' stop, and a religious shrine on the ancient Silk Road. The local arid climate with less rainfall is a major reason that the heritage site has been preserved for thousands of years.
It receives over 1.7 million tourists every year. The grottoes were placed under the management of the Dunhuang Academy of China in 1944.