Direct Dublin-Beijing flight service launched
The direct flight service between Ireland's Dublin and China's Beijing was launched here on Tuesday morning as an Airbus A330 aircraft of Hainan Airlines departed the Dublin Airport almost exactly at the time scheduled.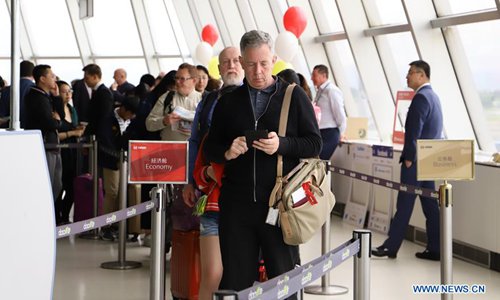 Passengers wait to board a Beijing-bound plane at Dublin Airport in Dublin, Ireland, June 12, 2018. The direct flight between Dublin and Beijing, capital of China, was launched here Tuesday morning as an Airbus A330 aircraft of China's Hainan Airlines departed Dublin Airport. This is the first direct flight linking Dublin with Beijing, and also the first between Ireland and the Chinese mainland. (Photos: Xinhua)
This is the first direct flight ever launched by Dublin Airport to connect the Irish capital with the Chinese capital.
Prior to the departure of the flight, a brief ceremony was held at Terminal One of Dublin Airport, which involved speeches from officials of Dublin Airport, Hainan Airlines and the Chinese embassy in Ireland. A cake-cutting and a ribbon-cutting were also held at the ceremony.
Commenting on the launch of Tuesday's maiden flight from Dublin to Beijing, Dublin Airport Managing Director Vincent Harrison said that it was a historic day for the airport.
"Trade between Ireland and China is hugely important for our economy," said Harrison, adding that the new direct route will greatly facilitate Irish firms and exporters with operations and clients in China as well as Chinese financial services and technology companies investing in Ireland.
According to Harrison, Ireland is also home to more than 5,000 Chinese students attending Irish educational institutions and each year there are estimated 30,000 people travelling between Dublin and Beijing.
He said the launch of the direct Dublin-Beijing flight route will make travellers between Ireland and China much easier.
The direct Dublin-Beijing flight service is operated by Hainan Airlines on a four-days-a-week basis with non-stop flights between Dublin and Beijing as well as flights with a stopover in Britain's city of Edinburgh.
Hainan Airlines is a major airline in China with a fleet size of over 400 planes which offer nearly 1,800 flight routes to over 220 destinations around the world.
Dublin Airport is the largest airport in Ireland which annually handles about 85 percent of the total flight passengers in the country.
Earlier on June 2, a Hong Kong-based airline Cathay Pacific also opened its first direct flight service between Hong Kong and Dublin.
With the opening of these two direct flight routes, the economic and people-to-people exchanges between China and Ireland will surely be strengthened, said an official from the Chinese embassy in Ireland.