Tourism brings new levels of trust-and jobs, too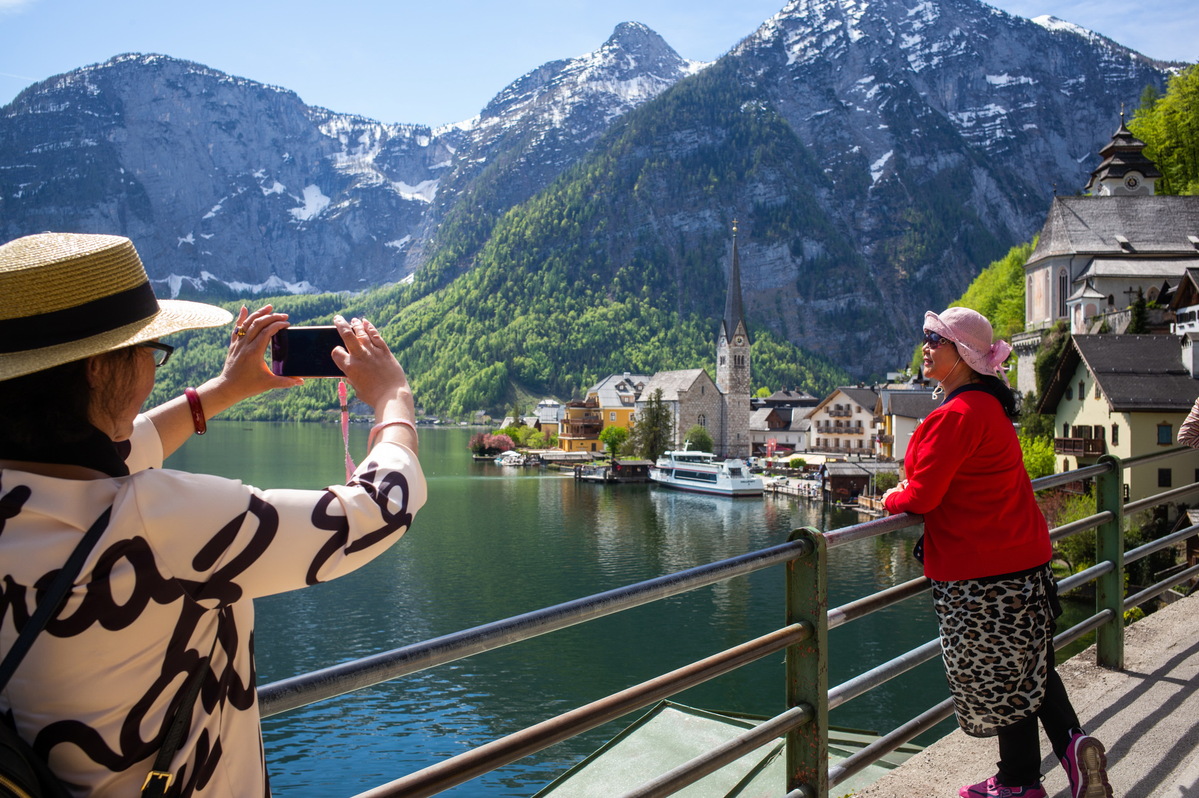 Chinese visitors take pictures in Hallstatt, Austria, a tourist attraction, on Thursday. (Photo: Xinhua)
Tourism is propelling trade and cultural exchanges between China and countries involved in the Belt and Road Initiative, according to a report released in April by the China Economic Information Service and online travel agency Ctrip.
Ctrip and the China Economic Information Service, a branch of Xinhua News Agency in Beijing, said 582 million trips were made by international travelers to destinations along Belt and Road routes in 2017, accounting for 44 percent of the international trips that year.
Trips made by Chinese travelers to countries involved in the BRI increased to 27.4 million in 2017 from 15.5 million in 2013, when the initiative was proposed by President Xi Jinping, according to the China Tourism Academy.
Preferential visa policies and the increasing number of nonstop flights to China help tourism, according to the report, which said 51 countries involved in the Belt and Road Initiative have preferential visa policies for Chinese travelers.
For example, 11 countries issue visa waivers to Chinese visitors, while 33 countries grant visa-upon-arrival for them.
Also, the number of nonstop flights from China to BRI-related countries increased to about 1,000 by the end of 2018. Flights from Bangkok to Shanghai, from Bangkok to Hong Kong and from Singapore to Shanghai were among the most popular.
According to Lvmama, a travel agency in Shanghai, users who reserved tour packages to countries involved in the BRI grew by 38 percent in 2018 over the previous year, while countries in Southeast Asia, including Thailand, Vietnam, Singapore and Indonesia, were among the hottest destinations for Chinese tourists.
Zou Qingling, Lvmama's director with the outbound tourism department, said those countries have abundant sunshine and beaches and are close to China.
Tourism also breathed new life into the job markets of countries along the Belt and Road. Marouane Lamrabet, a 26-year-old from Morocco, is enjoying the benefits.
He said it was hard for his peers, including those with a college education, to find stable jobs in Morocco before tourism prospered in the country.
"My brother earned a monthly wage of 2,000 yuan ($294) in Morocco, after he got his bachelor's degree," he said.
Having graduated from Beijing International Studies University in 2016, Lamrabet made his living in France as a deliveryman before registering as a tour guide at Ctrip in 2018. So far, he has guided 30 groups of Chinese travelers, earning roughly 14,000 yuan per month.
He said tourism changed his life, as it functions like a bridge between people from different countries and helps people learn more about each other and build trust.