China to fine camping, cooking on Great Wall
Global Times
1528955995000
Tourists camping or cooking on the Great Wall in Qinhuangdao, North China's Hebei Province could be fined up to 10,000 yuan ($1,560), a recently approved Great Wall protection regulation stipulates.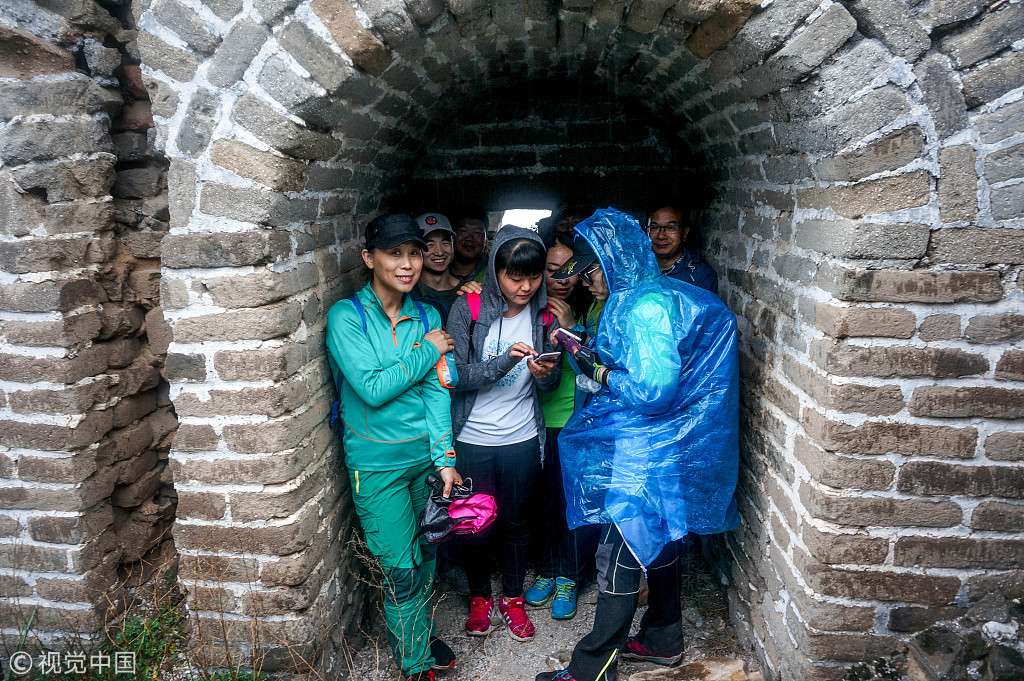 Photos: VCG
The Qinhuangdao Great Wall protection regulation was approved on May 31 and will take effect on September 1. Individuals who camp or cook on the Great Wall will be fined up to 1,000 yuan, organizations 10,000 yuan, according to the regulation.
Qinhuangdao is a port city three hours' drive east of Beijing. It is famous for its Great Wall historical site built in the Ming Dynasty (1368-1644) that meanders 223 kilometers within the city before finally extending into the shallows of the Bohai Sea at Old Dragon's Head rampart.
Several other actions are explicitly forbidden under the regulation, including herding livestock, scribbling, graffiti and putting up advertisements on the wall. Other activities including movie and television shooting, advertisement photography and event organization on the wall require official approval beforehand.
As China's tourism industry develops with an increasing number of tourists, current historical sites that have been exploited for tourism "can no longer meet the demand of people, especially in tourist cities like Qinhuangdao," Tian Lin, a professor of ancient architecture at the Beijing University of Civil Engineering and Architecture, told the Global Times on Wednesday.
"The wild Great Wall has become popular travel destinations and, as a result, are in danger of damage. New oversight must be applied to protect these sites," Tian added. Wild Great Wall refers to the sections that are not exploited or maintained as commercial tourist spots.
Bricks with ancient texts carved on them are being removed and sold by local residents and tourists in Hebei Province for around 40 yuan a piece, the report said.
"Those bricks with texts are cherished cultural relics, and people should be informed of their value," Tian said.
Tian suggests that public awareness campaigns for the preservation of historical relics and Great Wall protection should be conducted by related departments, and a reward system should be set up to encourage social organizations and residents to take part in the Great Wall protection.
According to data by The State Administration of Cultural Heritage in June 2015, a total of 1,961 kilometers of the Great Wall have disappeared, and a further 1,185 kilometers are in poor condition.