Meeting held in Dublin to promote tourism in Giant Panda hometown in China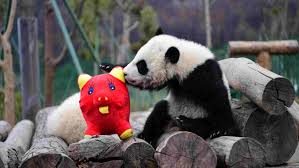 (Photo: CGTN)

DUBLIN, May 27 (Xinhua) -- A delegation from the hometown of Giant Pandas in China's southwest Sichuan province held a meeting here on Monday to promote their tourism in Ireland.
Nearly 100 people mainly from the tourism sector attended the promotion meeting held at Crowne Plaza Dublin, a four-star hotel in the Irish capital.
During the two-hour meeting, officials from the Tibetan and Qiang Autonomous Prefecture of A Ba (also abbreviated as A Ba Prefecture) briefed the participants about the rich tourism resources in their region.
Located in the northwest part of Sichuan province, A Ba Prefecture has a size similar to Ireland but with a much less population due to its high altitude. The region is famous for its snow mountains, lakes, rivers, waterfalls and grasslands.
But what makes A Ba Prefecture most famous for is its Wolong National Nature Reserve where most of the Giant Pandas are found living in China.
A Ba Prefecture also boasts a UNESCO World Heritage Site called Jiuzhaigou, which is like a wonderland abundant in multi-level waterfalls, beautiful rivers and lakes as well as colorful trees and flowers.
The highest mountain, called Mountain Siguniang, in the region, which measures 6,250 meters in height, holds a special attraction for mountaineers both from home and abroad.
A Ba Prefecture is also attractive for its mixture of customs and traditions of different ethnic groups as there are a large number of ethnic groups living harmoniously in the region with the Tibetans accounting for 55 percent of its total population, followed by Han people (about 25 percent) and Qiang people (about 18 percent).
There are also many famous Buddhism relics scattered across the region.
Talking to Xinhua at the meeting, Liu Ping, Secretary of A Ba Prefecture Committee of the Communist Party of China, who heads the delegation to Ireland, said that there are more and more Chinese coming to visit Ireland in recent years and we also welcome our Irish friends to visit China, especially our beautiful A Ba prefecture where they will not only have a chance to feast their eyes with stunning scenic spots but also to feel the warm hospitality of the A Ba people.
At Monday's A Ba Prefecture tourism promotion meeting, a representative from Boyne Valley Tourism, a tourism agency, also briefed the Chinese delegates and the participants about the tourism resources in Boyne Valley, a famous tourist site about 20 minutes' drive north of Dublin.
Last year an estimated 100,000 Chinese visited Ireland whereas the number of Irish visitors to China is much less than that.