Chinese Renminbi banknote scenery: Mount Qomolangma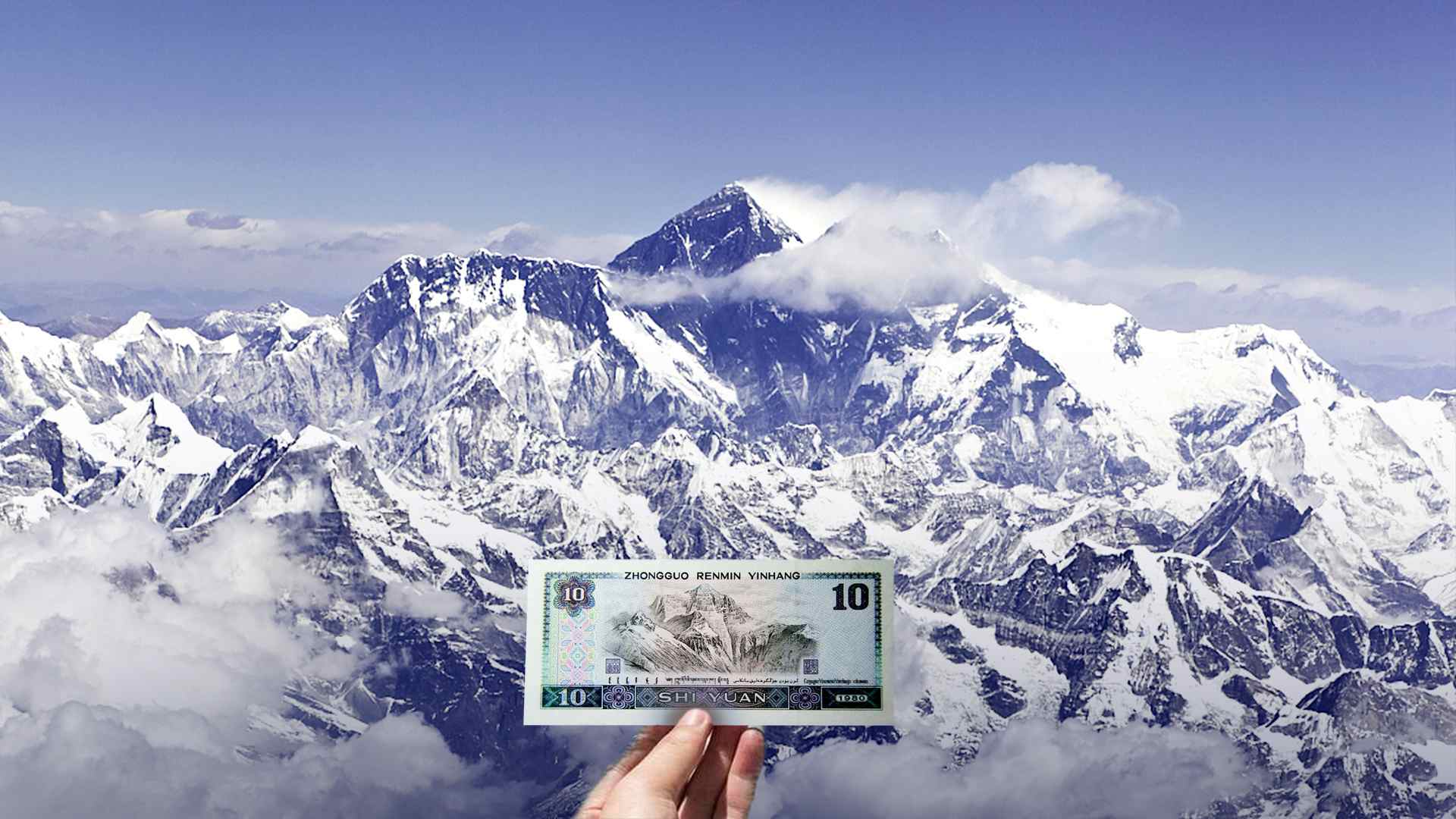 (Photo: CGTN)
The iconic scene on the back of the fourth edition of the ten-yuan Renminbi banknote is Mount Qomolangma, also known as Mount Everest. The highest mountain in the world, Mount Qomolangma is located in southwest China's Tibet Autonomous Region, featuring many wonders that are definitely worth exploring.
Today, Mount Qomolangma has become one of the most popular trekking destinations for travelers from China and abroad. Every year, a number of brave mountaineers visit and climb Mount Qomolangma, hoping to achieve their life-long dream and appreciate the stunning views from the top of the mountain. However, the most important thing is to make sure you are well prepared before climbing. Usually, an oxygen tank is needed because of the high altitude.
Qomolangma Base Camp
At an altitude of 5,200 meters above sea level, two kilometers from Rongbuk Monastery, the base camp for Mount Qomolangma has long been recognized as the best site to take a panoramic view of Mount Qomolangma.
As the starting point for mountaineers, this base camp is regarded as a significant scientific observation base. In addition, locals always recommend staying overnight at Rongbuk Monastery before heading to the base camp.
Currently, the Qomolangma Base Camp has been closed in a bid to protect the environment. Ordinary tourists are banned from areas above Rongbuk Monastery, around 5,000 meters above sea level. But for travelers who have a climbing permit, the mountaineering activities will not be affected.
Meanwhile, to preserve the surrounding environment of Mount Qomolangma, China has carried out some environmentally-friendly travel tips for travelers that will help to protect the region's natural beauty.
Eco-friendly tips for visitors
1. Try to use environmentally-friendly and biodegradable products when you visit Mount Qomolangma.
2. Photography or videos are not allowed when visiting inside temples, unless permitted.
3. Refuse buying endangered animal products, such as Tibetan antelope, snow leopard, and brown bear.
Transportation
As Mt. Qomolangma is over 600 kilometers away from Lhasa, usually it takes more than one day to get there from Lhasa. In addition, driving is the only transportation as there are no buses running from nearby towns or cities to Mount Qomolangma.