Israel sees record 4.1 mln foreign tourists in 2018: report
JERUSALEM, Jan. 6 (Xinhua) -- The number of tourists visiting Israel in 2018 rose by 14 percent from 2017 to reach a record of 4.1 million, said an annual report published by the Central Bureau of Statistics on Sunday.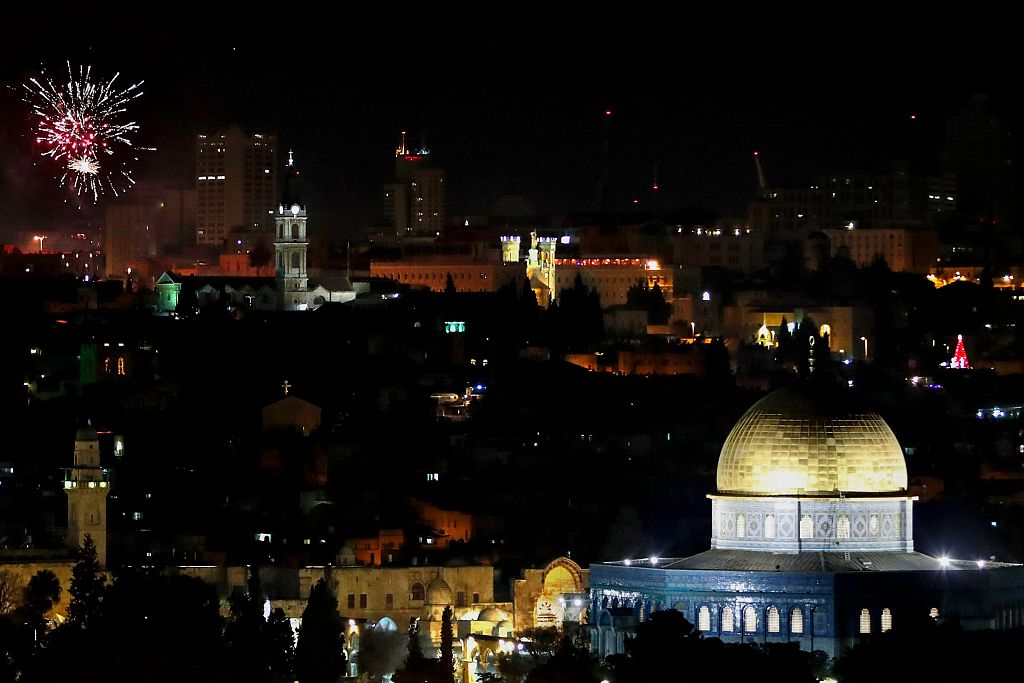 Fireworks explode over Jerusalem's Old City and the Dome of the Rock mosque during New Year celebrations, on January 1, 2019. (File photo: VCG)
Israel saw 5.9 billion U.S. dollars of tourism-related revenues in 2018, said the Israeli Ministry of Tourism.
In the last quarter of 2018, an average of 371,000 arrivals in Israel per month was recorded, compared with 319,000 in the third quarter.
The largest number of tourists in 2018 came from the United States, about 898,000, up 15 percent from 2017. About 346,000 tourists were from France, up 12 percent, and 316,000 from Russia, down 5 percent. Next on the list are Germany, Britain, Poland, Italy, Ukraine, Romania and China.
The data also showed that 4.1 million Israelis traveled abroad in 2018, an increase of 8 percent compared with 2017.
In total, there were 8.5 million departures of Israelis in 2018, an increase of 12 percent, and 27 percent of the departures were in the summer months of July and August.
The increase is explained by the "open skies" policy implemented in recent years by the Israeli Ministry of Transport, which includes additional airlines and routes operating in the state's airports and lower flight tickets prices.