China's outbound tourism ranks first in the world
People's Daily Online
1552652425000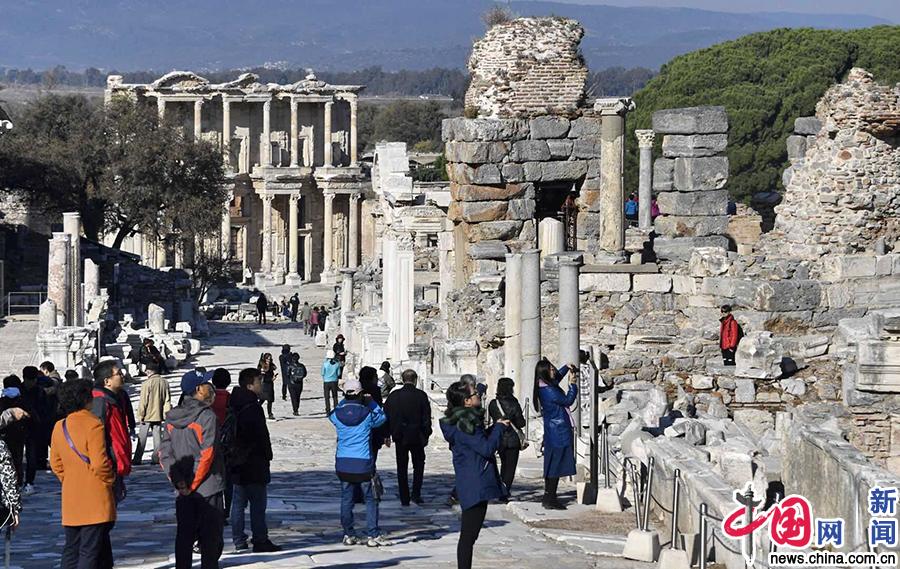 Chinese tourists visiting the ruins of Ephesus in Turkey. (Photo/China.com.cn)
Chinese people made about 150 million overseas trips last year, up 14.7 percent compared with the previous year, according to a report jointly released by the China Tourism Academy and online travel agency Ctrip, Chinanews.com reported recently.
In 2018, China became the source of the largest number of outbound tourists in the world.
Thailand, Japan, Vietnam, Singapore, the US, Russia, Australia, Italy, the UK, France, Germany and Spain were among the top 20 most visited countries among Chinese travelers, the report indicated.
Last year, 10 countries emerged as new destinations favored by Chinese people, including Myanmar, Serbia, Laos, Argentina, Spain and Cambodia.
In 2018, Chinese mainland tourists spent $120 billion overseas, with the average consumption per person per trip hitting 5,400 yuan.
The report revealed the top 10 shopping destinations for Chinese mainland tourists were Hong Kong, Dubai, Osaka, Macao, Tokyo, Paris, London, Singapore and Kyoto.
An expert with Ctrip's outbound travel studies said that due to consumption upgrading, Chinese people are now more willing to spend money on high-quality overseas travel experiences.
Dai Bin, president of CTA, said China's overseas travel market has maintained a growth rate of above 20 percent over the past 10 years, and this double-digit growth is expected to continue in the future.