Themed tour routes offer foreign visitors a taste of Shanghai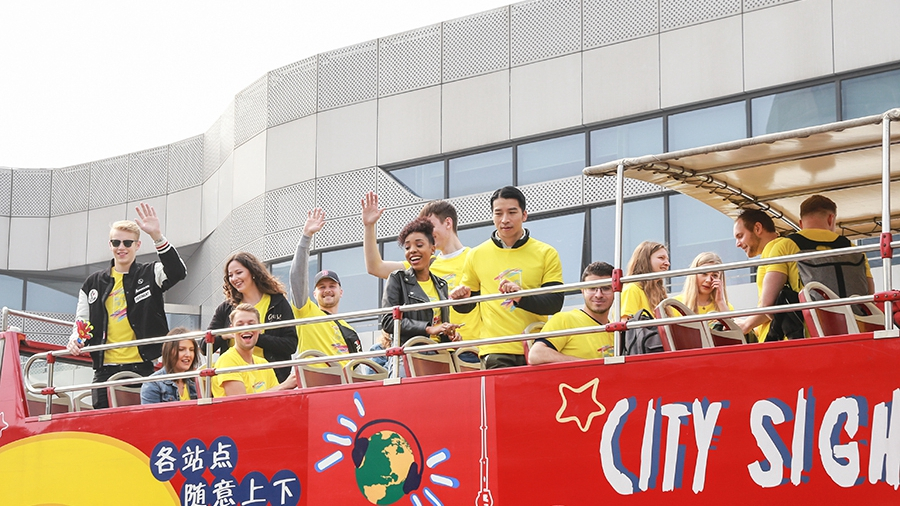 Foreign visitors board a sightseeing bus to tour around Shanghai, March 30, 2019. (Photo: Xinhua)
‍About 1,000 residents and expats experienced Shanghai's beauty, culture and glamour, by double-decker sightseeing bus and cycling on Saturday thanks to the newly released themed tour routes stringing the essence of culture and tourism in 16 districts.
The Shanghai Municipal Administration of Culture and Tourism released 40 routes themed on food, spring, festive activities, Huangpu River sightseeing and Shanghai's new look, on half a day or two days.
Some of the expats took a double-decker sightseeing bus to the Changfeng Ocean World in Putuo District and Shanghai Museum in Huangpu District.
"I have visited the Yuyuan Garden and the Bund, and the Yuyuan Garden is my favorite because its old town is full of local flavor," said Liana Di Caro, a student of Shanghai University from Germany.
"Shanghai is one of the most amazing cities I have ever been, and it is quite impressive," said Yannik Julian Suessenguth from Germany. "The people are really nice and I really enjoy living here. The Century Park is my favorite because I love nature."
"It is a nice trip and I love museums," said Josephine Bandry, a French student of Shanghai University. "I expect it to be full of history and culture."
These routes link museums such as Shanghai History Museum and Shanghai Film Museum, historical buildings like Fairmont Peace Hotel and Park Hotel, ancient towns such as Xinchang and Fengjing, the former residences of renowned writer Lu Xun and Shanghai author Eileen Chang, and parks like Chenshan Botanical Garden and Qingxi countryside park.
Also, 21 tourist attractions including Shanghai Disney Resort and Shanghai Science and Technology Museum will offer discounted annual passes to tourists this year, the administration said during the launching ceremony.
QR codes have been set on 584 historical buildings in Shanghai so far, allowing tourists to access bilingual information and multimedia features on their smartphones. The administration said it plans to include more buildings in the list this year.