Antarctic trips attract China's social elites
Global Times
1550449492000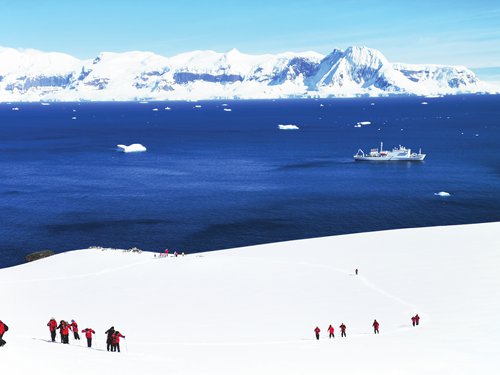 Chinese tourists to the Antarctic make a hiking excursion while their ship waits. (Photo: Global Times)
Wu Jianguo, in his 40s, has just returned from a trip to the Antarctic.

To him, his January trip is one of validation. In November 2015, he was on a cruise close to the Earth's southernmost continent and its offshore islands. But in his mind, it didn't count as a trip to the Antarctic unless he actually made landfall.

In January, Wu did more than merely set foot on the icy continent.

Wu and his travel companions camped alongside snoring hordes of seals and spend several nights on the continent. He completed a winter swim there.

He kayaked on the mirror-calm surface of the sea at arm's-length from a glacier cliff and had a close encounter with a pod of whales. He hiked on a mountain and tasted a mouthful of snow, which he was told had existed for over 10 millennia. He visited the Great Wall Station, the first Chinese research station in Antarctica, in operation since 1985. And then there were the encounters with the inhabitants of this white world - penguins and sea birds - numbering in the hundreds and thousands.

Wu was not alone. China's tourist army, or at least the vanguard of it, has arrived on the icy landmass that to the majority is only seen in text books or nature programs. According to data from the International Association of Antarctic Tour Operators (IAATO), the number of Chinese tourists visiting Antarctica annually grew from about 100 in 2007 to over 8,000 in 2018. The Chinese made up 16 percent of total visitors to Antarctica, trailing the US' 33 percent but ahead of Australia's 11 percent. Germans and Britons each accounted for 7 percent of the total.

Last stop before space

For tourists like Wu, Antarctica is the newest front of his discovery of the world.

"Visiting Antarctica nowadays is a feat in the same caliber as a Chinese tourist visiting France in 1990, India in 2000 and Norway in 2010," Wu told the Global Times on Thursday.

"I have traveled to 50 countries and regions across the seven continents of the world. And here I am in the polar region. For people like us, this is the last stop before embarking on space travel," Wu said.

Visiting the world's southernmost continent cost Wu a handsome fee.

The trip in November 2015 cost him 138,000 yuan ($20,400) and the one in January cost 155,000 yuan.

A previous trip to the Arctic was even more pricy, costing 200,000 yuan. But that makes Wu, one of the privileged few to have gone winter swimming in both polar regions, a number he estimates at no more than 1,000.

For Allen Guo, a surgeon in his 30s, a visit to Antarctica in February 2018 bore a special meaning - he and his wife completed their wedding ceremony at China's Great Wall station. The station chief witnessed the marriage. The trip cost them 250,000 yuan.

Zhang Xueyan, expedition team leader of Chinese polar tourism specialist Tripolers, said that although the number of Chinese tourists is currently behind those from the US, in the past three years the figure has been growing at 250 percent higher than that of the US and 200 percent higher than the global average increase.

"We predict that the number of Chinese tourists to the Antarctic will surpass those from the US by 2023, with estimated visitor numbers hitting 28,000," Zhang told the Global Times over the weekend. Zhang's company has sent over 2,000 tourists to both Antarctica and the Arctic, according to the company's website.

Antarctica has become a must-do for the cream of China's globetrotters.

Guo has observed that more than half of his travel companions are driven by an inner to-do list - they know what places they want to conquer and they have a timetable in how and when to do it.

Often the ship is a gathering of China's social elites. Visitors include entrepreneurs, professors, lawyers and the like, Wu said.

During the sea voyage, they listen to lectures on the latest applications of life science and healthcare, anecdotes of the filming community, and share their stewardship of human resources management.

Tourism boom and its worries

The trend to travel to exotic destinations like the Antarctic is in keeping with China's standing as the second-largest economy in the world with a burgeoning middle class.

To keep pace with demand, some companies have started partnering with local tour operators. Now, many cruise ships are fully booked with Chinese adventurers like Wu and Guo.

Raymond Zhang, a manager at the Hong Kong-based Hong Thai Travel Services, said the number of Chinese mainland tourists visiting the Antarctic has soared in recent years, and supply-side changes are behind this momentum. Hong Thai is one of the largest travel agencies in Hong Kong.

"China is tracking the US in the number of Antarctic tourists. A major reason is that tour operators have developed packages featuring chartered ships exclusively for Chinese tourists and have increased their marketing efforts for such packages. The threshold for Chinese mainland tourists [to go to Antarctica] has lowered significantly," Zhang said.

These trips cost between 50,000 and 150,000 yuan from China to Antarctica, Zhang said. Most of the clients are over 45, but now younger people are starting to follow.

Fliggy, an online travel service platform under e-commerce giant Alibaba, has rolled out an Antarctic package aimed at a much younger consumer group that are more price sensitive.

In 2017, Fliggy partnered with Norwegian polar cruise travel service provider Hurtigruten, chartering a ship to bring down the cost of a trip to the icy continent from about 100,000 yuan to less than 50,000 yuan per person, according to a statement the company sent to the Global Times on Thursday.

In 2018, Fliggy said it served nearly 2,000 Chinese tourists, about one-third of the total, but these tourists are younger, with 46.5 percent of them born after 1980, and 15 percent born after 1990.

Zhang said the rapid increase in the number of Chinese tourists also posed challenges to tour operators - smaller firms which lack capacity and funding are being pushed out of this lucrative market by bigger firms.

"We are mulling how to consolidate our position in this market, in addition to maintaining a very high standard in terms of environmental protection," Zhang said.

"Running Antarctic tours means facing many unpredictable situations, like extreme weather conditions for one. Companies like us hope for more understanding from our tourists and more flexible domestic tourism regulations to fit with the realities down there," Zhang said.

"Some tourists demand that the ship must visit all the destinations described in the itinerary, but that's just not the case in Antarctica," Zhang said, noting that tourism development has gone ahead of tourism regulations in this far corner of the world.

In 2018, the Great Wall Station changed its reception protocol at the direction of State ocean affair authorities and Chinese tourists' access to the station is now restricted.

Despite rising Chinese tourist numbers, no Chinese companies directly operate tours in the region, and there is no vessel owned by China, while advanced tourism regulations and civilian-sector scientific expeditions are dominated by Western countries, Zhang said.

As Wu sees it, an increased Chinese tourism presence in Antarctica is backed by China's national strength, economic power and interest in the unknown world.

China has ramped up its investment in Antarctica. The country is currently building its fifth research station and in 2018 announced plans to build its first Antarctic airstrip.

But the country's investment is still much smaller than nations such as the US and Australia. It currently spends about the same as South Korea.

Chinese companies are building polar vessels for commercial expeditions and travel, Zhang said.

"Government policymakers should pay more attention to the Antarctic, not only for its tourism resources, but also minerals, fisheries and its scientific value amid the challenges of climate change. More resources should be put into the sector to educate citizens, guide industry development and boost overall development," she noted.