Airbnb Plus seeks to expand in China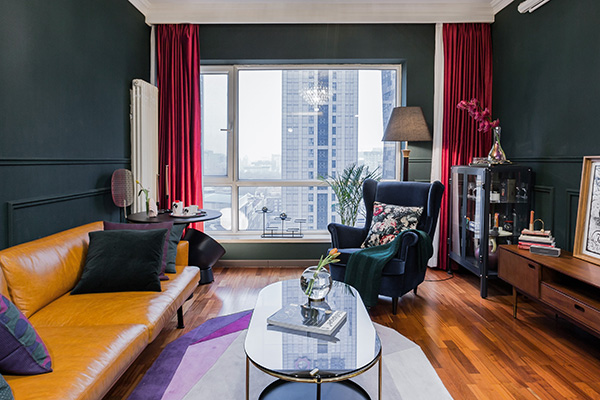 A well-decorated Airbnb Plus listing in Beijing that aims to provide guests with high-quality accommodation. (Photo provided to China Daily)
Airbnb Plus is poised to expand in China, as a growing number of independent travelers seek home-sharing to enjoy more local experiences, and many are demanding more from hosts.
A report by the State Information Center reveals that the trade size of home-sharing listings in China reached about 16.5 billion yuan ($2.4 billion) in 2018, a 37.5 percent increase over 2017. Chinese hosts were young and well educated. Most are women.
Zhang, who only reveals her surname, is a full-time Airbnb Plus host and interior designer.
She pursued her postgraduate studies in the United States and used to work in an investment company.
"Being a host is like opening a whole new world to me," she says.
"I like to rub shoulders with travelers from all over the world. I'm encouraged when they say my place is like home to them."
Her secrets to attracting guests are stylish decor and attentive service that make guests comfortable in an unfamiliar city. For example, she prepares a cake, flowers and champagne if it's a guest's birthday.
In February 2018, home-sharing platform Airbnb debuted Airbnb Plus - the brand's highest-quality accommodations for guests looking for well-decorated and cozy places with exceptional hosts.
Its data show that the 10 markets with the most Airbnb Plus listings are Los Angeles, Cape Town, Rome, Melbourne, London, Sydney, Shanghai, Austin, the Bali Islands and Toronto. The number of Airbnb Plus listings has grown by 800 percent globally, from 2,000 to over 15,000.
The company has launched Airbnb Plus in 164 cities worldwide, including 13 in China, such as Beijing, Shanghai and Guangzhou. In 2019, it's planning to expand Airbnb Plus to over 700 cities globally, including over 30 Chinese cities.
"No matter how quickly we expand, no matter how many markets we go into, the quality of the actual experience is very important. We will make sure that every market is of high quality," says Airbnb Plus' vice-president, Vlad Loktev, who recently visited Airbnb's Beijing office.
"We're evaluating which Chinese cities we're expanding in this year and, most likely, beyond first-tier cities as well."
He doesn't reveal the number of Airbnb Plus listings in China but says China represented 20 percent of global Airbnb Plus bookings in 2018. He expects the figure to continue to grow this year.
Airbnb Plus listings received nine times more online views than normal listings, and their booking rate has increased by 70 percent, according to a global survey by Airbnb.
To attract more people to become Airbnb Plus hosts, the platform has a capital program to help those who don't have enough money to improve their homes, and an interior-design program to teach hosts about decoration.
An Airbnb employee visits the homes of every host applying for Airbnb Plus to ensure the accommodations meet the requirements of a 100-point checklist, Loktev says. It will also offer hospitality guidance.
The employee also re-inspects the homes and reads online reviews to monitor guests' experiences.
"Our employees work with hosts to help them get to the next level," Loktev says.
"Actually, I was recently in some homes to help hosts meet the standards, such as moving furniture and buying a table."
A major point of the checklist is to ensure the host offers personal touches, such as handwritten notes and fridges full of local food and drinks.
He says he's "proud" of the way hosts use interior design to tell their stories.
"Hosts put what's personal to them inside their homes, and guests will be able to enjoy a lifestyle that they didn't get a chance to live before. Today, a lot of our focus is on the existing community," he says.
"We want to help those who have been with us for several years to get into the Airbnb Plus program. We're also looking for new hosts on the platform as well. We also see that Airbnb Plus hosts are helping other potential people get into the plus program."
Airbnb Plus Host University was launched in China last year to invite successful hosts to share their experiences and tips about such things as decor with others face-to-face.