Diners more focused on quality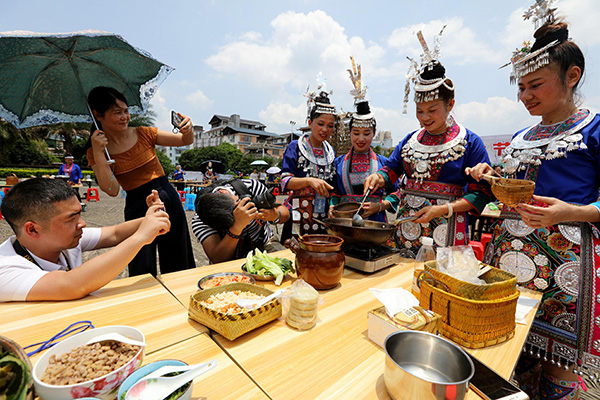 Tourists try Camellia oleifera, a specialty tea, in Sanjiang Dong autonomous county, South China's Guangxi Zhuang autonomous region. (Photo: Xinhua)
Buyers seeking nutritious goods, boosting catering sector's prospects
National Bureau of Statistics data show Chinese consumers spent 3.96 trillion yuan ($620 billion) on food and drink in 2017, up 10.7 percent year-on-year, with a higher growth rate than the consumer goods sector's average.
This April, China's food and beverage industry generated 302.4 billion yuan in revenue, up 9.6 percent year-on-year.
"The Chinese economy is growing at a stable pace and the food and beverage industry will keep playing an important role in stimulating consumption," the China Cuisine Association predicted in its annual report released in 2017. "In 2018, the industry will maintain a growth rate of around 10 percent, with the entire market size reaching 4.3 trillion yuan. By 2020 it is expected to top 5 trillion yuan."
Demand is not only growing in terms of quantity but also quality, as buyers are getting pickier. Consumers are paying more attention to quality, safety, service and whether their food is produced sustainably.
"To achieve high-quality development, we need to offer diversified experiences for our customers," said Jiang Junxian, head of the China Cuisine Association. "So, we need to speed up supply-side structural reform in the business. With a more developed food processing industry, we can provide safer, more nutritious and convenient ingredients to consumers."
Qu Hao, an award-winning Chinese master chef, predicted the average spend on eating out will increase in 2018, with cheap restaurants struggling to survive as costs rise.
"I think 2018 will see fierce competition between restaurants priced at 100 yuan to 200 yuan per person per meal," Qu said. "Diners will have higher expectations at a restaurant priced within that range, which will push the business to upgrade and offer better services."
Nordic pork is an example of a high-end product gaining wider popularity among Chinese diners despite its relatively high price. China is a pork exporting country. With domestic supply far exceeding local demand, prices are sliding. However, that hasn't stopped foreign companies selling their products in the country.
In May, Finnish meat products company HKScan Oyj exported 25 metric tons of pork to China. It plans to ship a further 2,975 tons this year, believing its omega-3-rich, antibiotics-free and hormone-free pork chops will be a major market hit.
"We see a demand for premium pork in the Chinese consumer market," said Jukka Nikkinen, executive vice-president at HKScan. Especially when it comes to food, Chinese customers do not look at the price tag alone, but care about whether it is safe, healthy and nutritious, he said.
"I don't care if the pork is a frozen import or fresh from the butcher's, as long as it's not genetically modified and is hormone-free," said Li Wenjie, a 30-year-old new mother based in Ningbo, Zhejiang province. "I don't even go to the food market. I buy most of my groceries from the supermarket or online anyway. I used to eat junk food every day when I was at university, but now I'm a mother with a baby to feed, I need to pay attention to food quality and safety."
HKScan is not the first Nordic country to ship pork to China. Late last year, 36 tons of pork from Finnish food company Atria arrived in Changsha, capital of Central China's Hunan province. The pork joints sold for 168 yuan each in a local restaurant, which served them as schweinshaxe, meaning German-roasted pork knuckle. Atria is planning to export 2,000 tons of pork to China every year.
Pork belly from Denmark, selling at 62 yuan per kilogram, has been a popular product on Tmall Supermarket, Alibaba Group Holding Ltd's online grocery store.