Welcome to the future at Galaxy Community Immersive Exhibition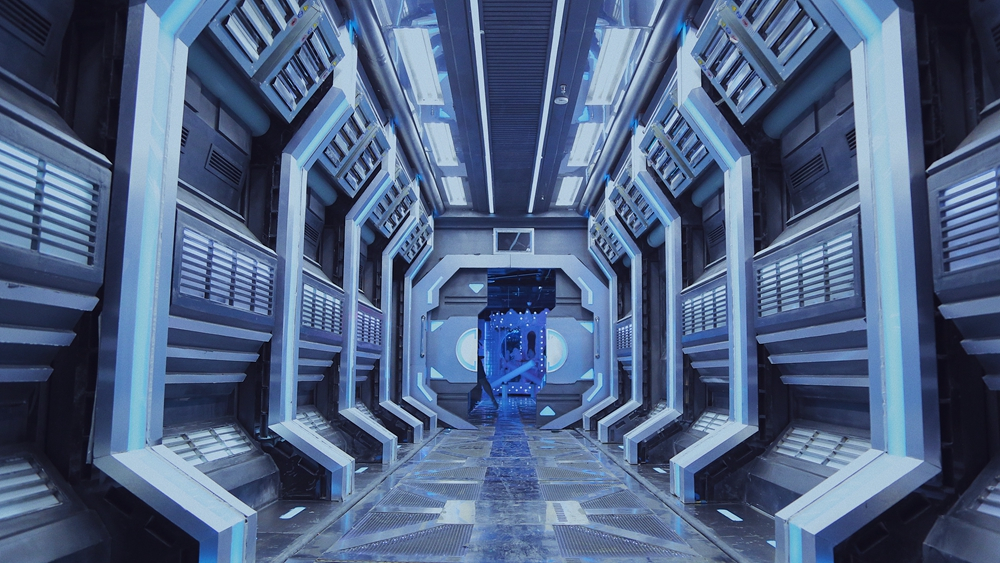 (Photo: CGTN)
Stepping into the Galaxy Community Immersive Exhibition in Beijing is like entering a world where "Alice in Wonderland" meets "Blade Runner" meets every movie set on a spaceship — futuristic, whimsical, and wild.
The multi-functional space, which opened on June 21, gives visitors a glimpse into a future that eerily looks familiar. Immersive and interactive experiences across 10 different sets await those looking for novelty in a world filled with much of the same.
The exhibition is a portal to your most favorite sci-fi title, with neon lights and a cyberpunk feel through and through.
The entrance to the exhibit takes you along a spaceship corridor with a blue hue. It leads to the first stop of your journey: Strange Trading Center. There visitors can choose to dress up in eccentric clothes and accessories. Snap photos and upload them online to take part in a fashion competition and you might just win an award.
Next is Biosphere 749, a botanical garden with all kinds of strange flowers and plants.
A few steps later and you'll find yourself in a vintage barber shop immersed in the electrifying beams of neon lights. Pull down the perm machine to hear stories left by other visitors, or record your own tales.
Next up is the Moon Playground, where a merry-go-round, slides and seesaws transport you back to childhood.
Those looking to take home a piece of the exhibit should head to the shopping alleyway, decked with lanterns stretching from side to side and beaming neon signs reminiscent of Hong Kong backstreets. There, creative products and artworks are on sale, as well as milk tea and other snacks.
Street artists are also joining in on the fun, with players of the Hang, an instrument that looks like a hybrid between a wok and a UFO, drawing a curious crowd. And on the dance stage, an AI robot interacts with the DJ, politely asking if it can dance to his music.