Nepal launches tourism website in Chinese language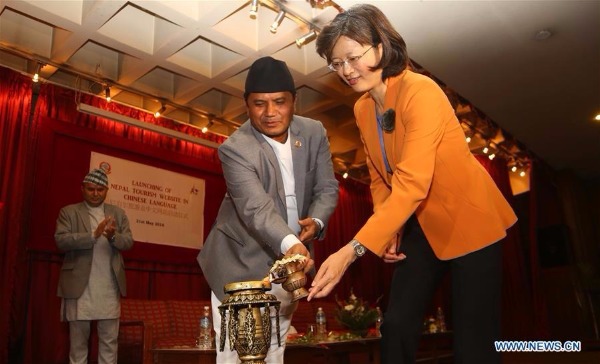 [Photo/Xinhua]
Nepal on Monday launched an interactive tourism website, the first of its kind, in Chinese language to attract more Chinese tourists.
Amid a function attended by government officials, tourism professionals and Chinese community, Nepali Minister for Culture, Tourism and Civil Aviation Rabindra Adhikari launched a customized website www.welcomenepal.cn which is an initiative of Nepal Tourism Board, the main tourism promotion body, to communicate in Chinese language.
The website comprises information on various tourism destinations of Nepal, photos and videos, different activities and things-to-do, and necessary information for the Chinese nationals visiting the Himalayan country.
Appreciating the role and contribution of China in Nepal's tourism, Nepali officials said that they have prioritized promotion of Nepal through website, mobile apps, road shows, sales missions and travel fairs in China.
"We believe that information about destinations and major features of Nepal through Internet, websites, apps and videos will help in attracting more Chinese tourists. Since we aim to attract 1.5 million tourists during 'Visit Nepal Year 2020', this website will play a crucial role," Adhikari said at a launching ceremony.
The minister further informed that Nepal will increase air connectivity with China by adding flights to some new cities within a few months. He also added that the works are underway in regard to road connectivity between the two countries, which can ease the flow of Chinese tourists via land route.
China has emerged as the number one source market for Nepal's tourism after arrivals of Chinese tourists overtook India during the first quarter of 2018.
According to Nepal's Department of Immigration, Nepal received a total of 36,384 tourists through air during the period from January to March against the arrivals of 34,133 from India.
Chinese tourist arrivals to Nepal have shown 100 percent increase since 2003 with around 7,000 in 2003 to more than a 100,000 in 2017.
Addressing the function, Chinese Ambassador to Nepal Yu Hong said that China attaches great importance to bilateral tourism cooperation and encourages more Chinese tourists to visit Nepal.
She added that the bilateral tourism cooperation will promote people-to-people exchanges and create a harmonious atmosphere for the development of bilateral relations.
On the occasion, Nepal Tourism Board also launched the promotional videos of seven provinces of the country.