Baidu signs comprehensive deal with Ctrip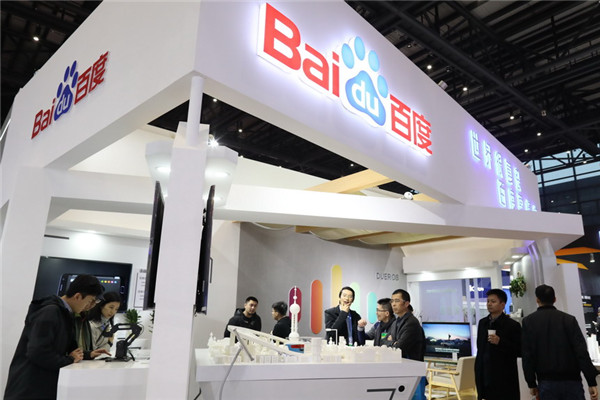 People visit the Baidu exhibition stand at the Light of the Internet Expo in Wuzhen, Zhejiang province. (Photo: China Daily)
Chinese internet search giant Baidu Inc inked an in-depth partnership with China's largest online travel agency Ctrip, in its latest efforts to drive the development of intelligent tourism in China.
Under the agreement, Baidu will deploy its cloud services and artificial intelligence capabilities to provide Ctrip with solutions tailored to tourism scenarios and businesses. Baidu Cloud, the cloud unit of Baidu will help Ctrip improve operational efficiency and customer experience and reduce costs in marketing and sales, customer acquisition and online traffic conversion.
The two companies will also continue to explore a variety of smart services in more scenarios based on Baidu's AI capabilities, such as speech technology and autonomous driving.
"The tourism industry is growing rapidly and Ctrip is the industry leader. Baidu looks forward to working with Ctrip to upgrade tourism services with 'cloud plus AI', enhance customer experience, and explore a viable path to intelligent tourism for the entire industry," said Zhang Dongchen, vice-president of Baidu.
"With the vigorous development of tourism, consumer needs are more and more diversified. To better serve our customers, Ctrip needs to be enabled by advanced cloud computing and AI technologies," said Xiong Xing, executive vice-president of Ctrip and CEO of air ticketing business unit and international business unit of the company.
Xiong said they hoped to collaborate with Baidu to create smarter customer service and more value for users.
This partnership is not limited to IT infrastructure. With Baidu Cloud's capabilities, big data analytics can be conducted on users' interests, habits and preferences. Different tourism products can be packaged by Baidu's AI and machine learning technologies to offer every user customized solutions.
Over the past three years, Baidu Cloud has collaborated with more than 2,000 partners in over 30 industries, such as finance, security, transportation and education, and created over 100 solutions.